THE CACTUS GARDEN LANZAROTE Jardin de Cactus Visitor Guide
November 5. 2019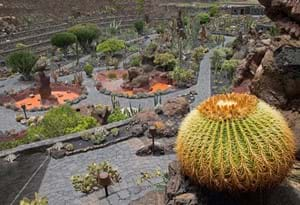 THE CACTUS GARDEN IN LANZAROTE - JARDIN DE CACTUS
Finca Botanico offers stylish accommodation close to Lanzarote's Cactus Garden.
The island's world-renowned Jardin de Cactus is just a short walk away from Finca Botanico in Guatiza and it is the island's most popular botanical attraction, welcoming well over 350,000 visitors every year.
Our guests love visiting the Gardens, before returning here to relax in the garden! So we've created our own visitor's guide…..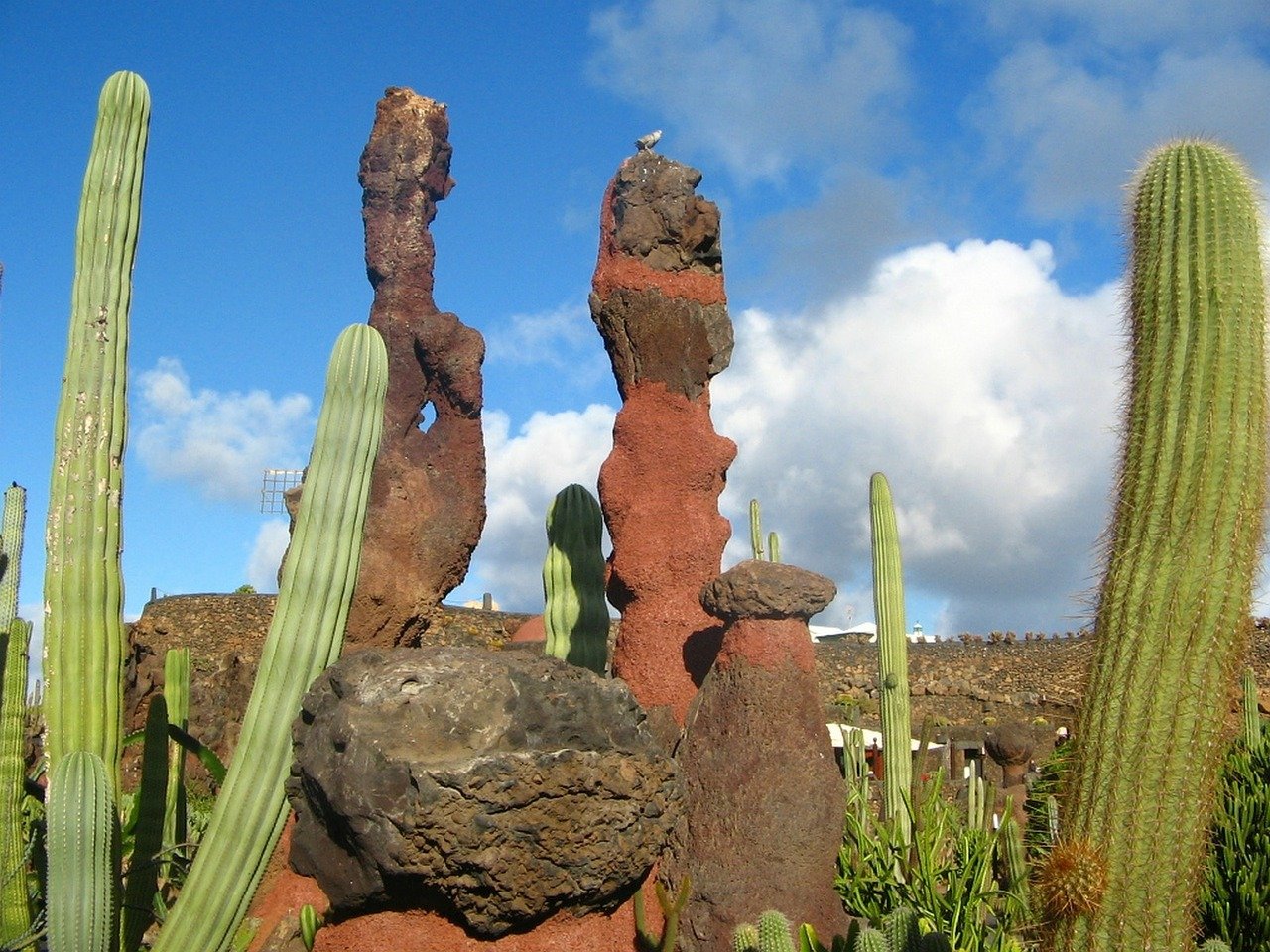 LANZAROTE'S CACTUS GARDEN - A POTTED HISTORY
Whilst work first started on the Cactus Garden in Lanzarote back in the 1970's this stunning selection of the plant world's spiniest species first opened its doors to tourists back in 1990 and was the last of the major tourist attractions created by the artist Cesar Manrique before his untimely death in 1992. Working in conjunction with the eminent botanist Estanislao González Ferrer the pair created a spectacular showcase on the site of a former quarry in Guatiza. A symbolic choice of location that was entirely deliberate – as this picturesque village was once home to Lanzarote's cochineal industry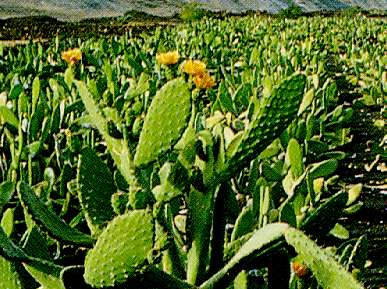 As a result tourists on route to the Jardin de Cactus pass through surrounding fields planted with swathes of the tunera cactus (a.k.a Opuntia ficus-indica) – a plant that is much beloved by the cochineal beetle – which local farmers once harvested and crushed to make a carmine coloured dye for export to markets such as the UK. Before the introduction of synthetic dyestuffs in the late 1800's meant that this means of making money faded away.
COCHINEAL PRODUCTION - LIVE AND LET DYE
Before this transition took place though local merchants planted roots in and around Guatiza and as a result this pretty, green village is home to some fine examples of Canarian architecture – some of which are intact, others now lying in ruins! Finca Botanico fortunately falls into the former category and dates back over 300 years – whilst other historic houses are dotted around and about.  And you can also find out more about the whole world of cochineal at the Centro de Intrepretacion Cochineal in nearby Mala.
PRICKLY PLANTING AT THE CACTUS GARDEN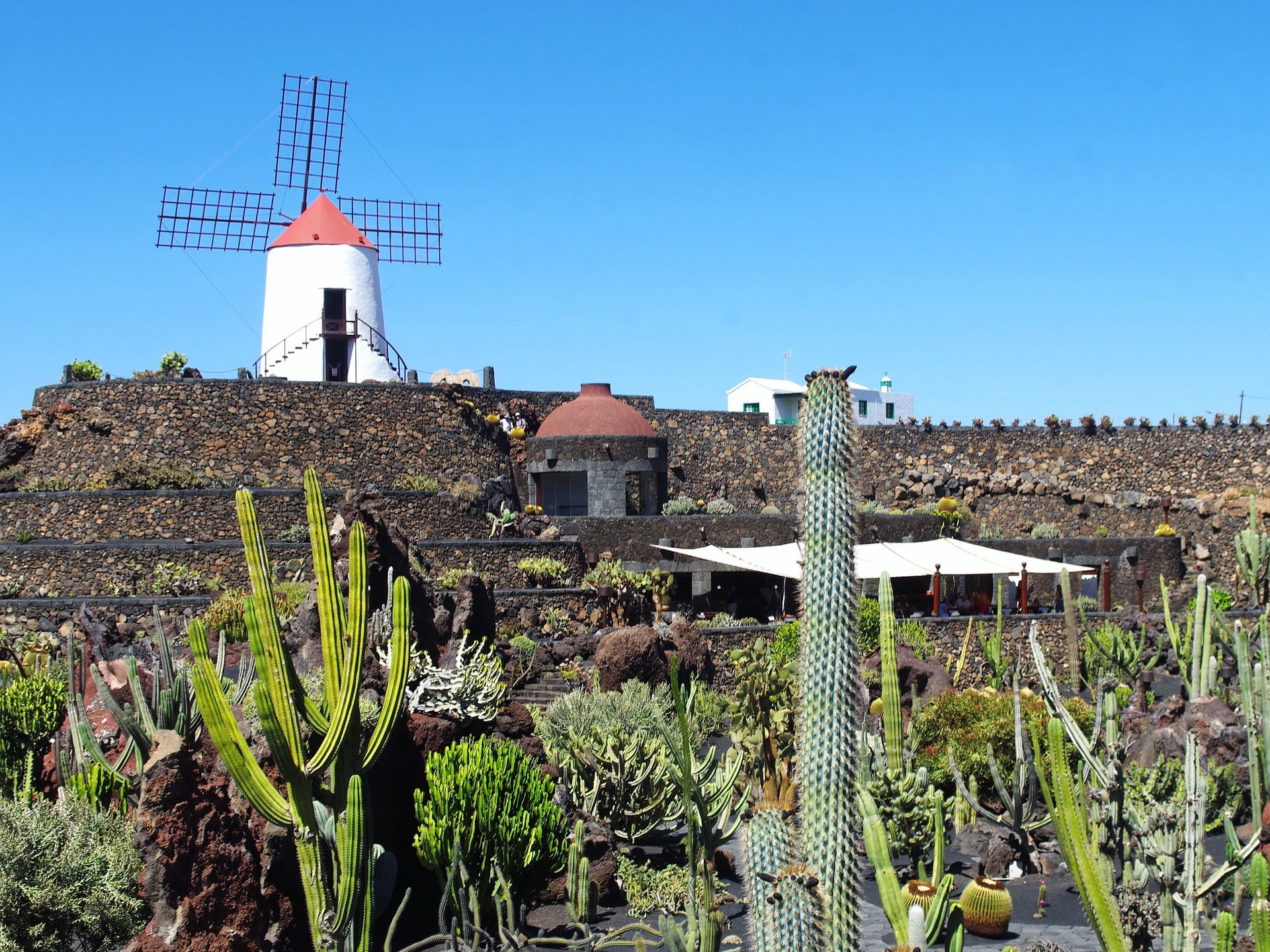 Lanzarote's Cactus Garden is home to around 4500 different specimens drawn from 450 different species of cacti from the earth's five continents. And many first-time visitors are stunned by the sheer variety and diversity of this plant genus as cacti can do a whole lot more than simply sprout spikes – with wildly different looking plants climbing, spreading and flowering all over this unique garden too.
The disused quarry which provides the setting for this stunning display is a bowl like amphitheatre with various terrace levels. So visitors are able to get up close and personal with the plants – making it a real favourite with photographers.
WHAT PLANTS WILL YOU FIND AT THE CACTUS GARDEN?
OUR FIVE FAVE PLANTS
Whilst it is hard to choose a single favourite from such a huge selection of plants there are certainly some real stand out specimens which are sure to catch your eye.
Echinocactus grusonii (Mother In Laws Cushion)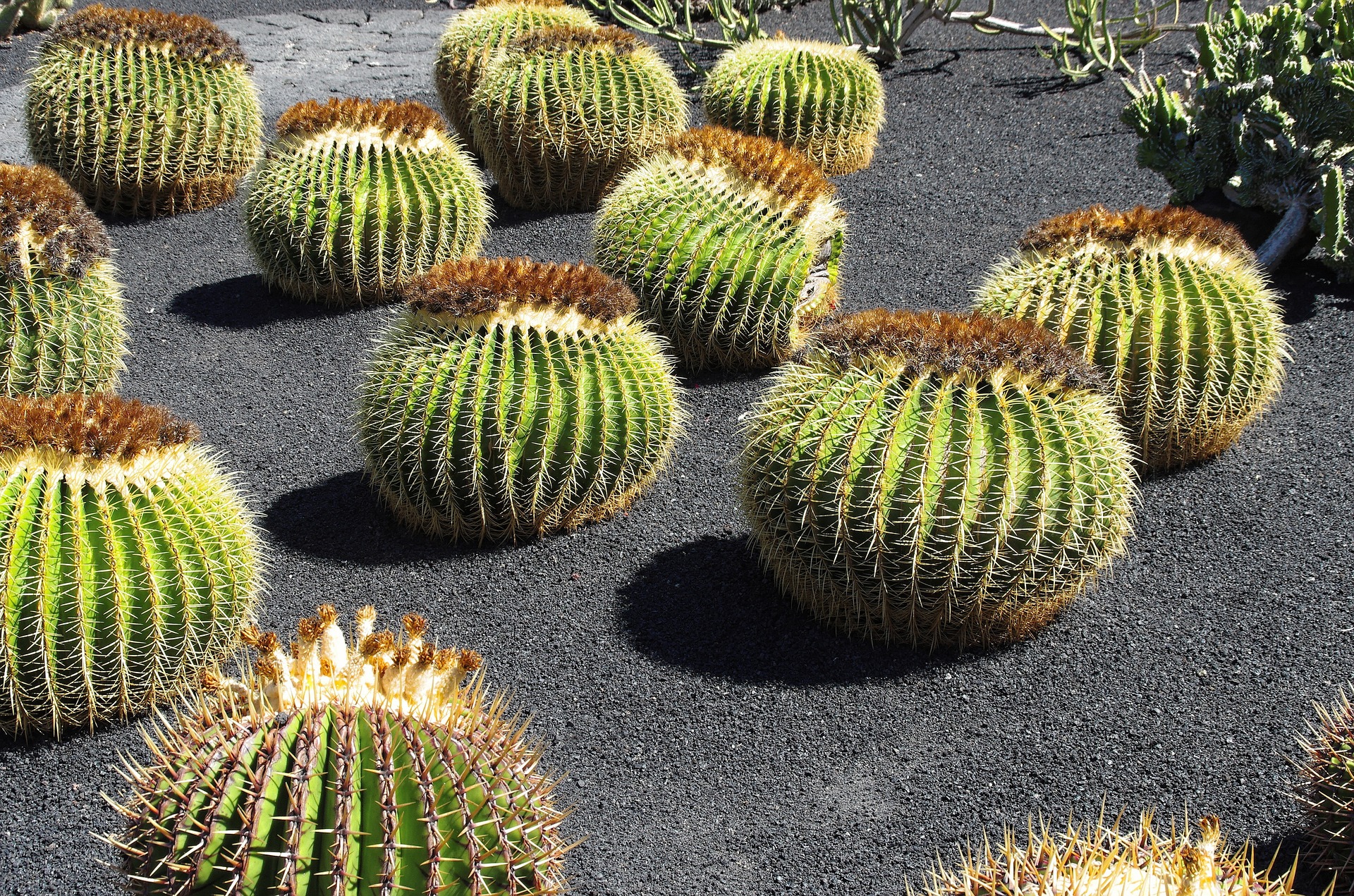 Regardless of your inter-familial relationships the golden barrel cactus, known colloquially as Mother In Laws Cushion is a real favourite at The Cactus Garden. Enjoying a prominent position beneath the restaurant and windmill where it forms picturesque colonies.
Pachypodium lamerei
This plant is a surreal stunner – so much so we also use it in the Gardens here at Finca Botanico. Its bulbous trunk boasts 6cm long spines, whilst the crown is topped with green leaves and large fragrant flowers. Making it one of the most unusual looking specimens in the Jardin de Cactus. It originates from Madagascar where it can grow as high as 6 metres and is a stem succulent, part of the Apocynaceae family.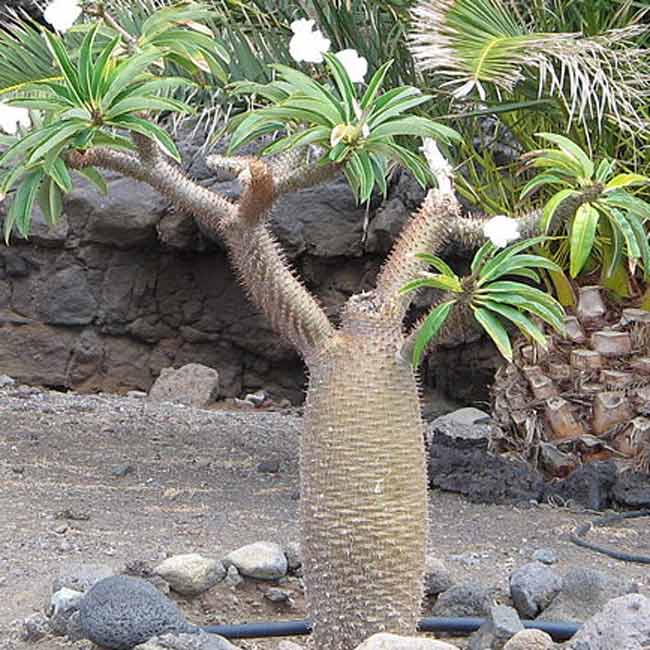 Euphorbia Abyssinica
This is a great landscaping plant drawn from the massive Euphorbia family and as the name suggests is endemic to Ethiopia, Sudan, Somalia and Eritrea. It can grow up to about 10 metres in height and forms numerous distinct arms. So thanks to its almost tree like shape it is used to provide quite a lot of the structure at the Cactus Garden in Guatiza, whilst also featuring prominently in pots here at Finca Botanico (as it needs no water). It's also one of the few non-spikey species on display – so feel free to fondle!
Cephalocereus senilis (Old Man's Cactus)
This form of furry cactus is always makes me smile – as it reminds me of the cartoon character Captain Caveman which was popular when I was a kid. And it's easy to see why it is also known as Old Man's Cactus, as it's grey hairs (which are in fact radial spines) are certainly reminiscent of an OAP's out of control beard. This also means it captures the light beautifully.
Aeonium arboretum atropurpureum (Purple Rose)
This striking deep purple succulent strikes a chord – as it is a plant that crops up with great regularity at virtually all of the key Cesar Manrique attractions. Most memorably perhaps at the artist's home and studio in Haria, where it is planted in shallow pots by the swimming pool. And little wonder – as it's a real local favourite, native to nearby Gran Canaria. Come springtime it forms rosettes at the end of the stems which in turn produce acid yellow flowers.
EATING AT THE CACTUS GARDEN - FANCY A CACTUS BURGER?
The Cactus Garden is a great place to stop off for a coffee or snack lunch. As much like the rest of the island's key attractions there is a beautifully designed on-site café offering a small selection of reasonably priced tapas dishes, such as tortilla, croquettes, goat's cheese, sea bass in mojo rojo and of course the ubiquitous papas arrugadas, which can be washed down with local beers and wines. As well as sandwiches, bocadillos and the real star of the show – Lanzarote's very own Cactus Burger.
This unique culinary offering first appeared on the menu back in 2017 and is made with 50% tunera cactus, potato, maize and onion and is served on a tomato bread bun with goat's yoghurt mayo, smoked cheese and lettuce. And it is pretty tasty too – so be brave and sample the signature dish.
Cactus was eaten quite widely in central America in pre-Colombian times and is surprisingly healthy too, as it is packs lots of anti-oxidants and health benefits as well as a kick in the form of taurine – well known as the active ingredient in various energy drinks.
The café is open daily from 10.00 to 17.45 in summer (15th July to 30th September) and from 09.00 to 17.45 for the rest of the year.
BOOK BRUNCH AT THE CACTUS GARDEN
You can now book brunch on the terrace at the restaurant every day of the week from 11.00 to 15.00. Find out more about brunch at the Cactus Garden, Lanzarote here.
EL MOLINO – THE WINDMILL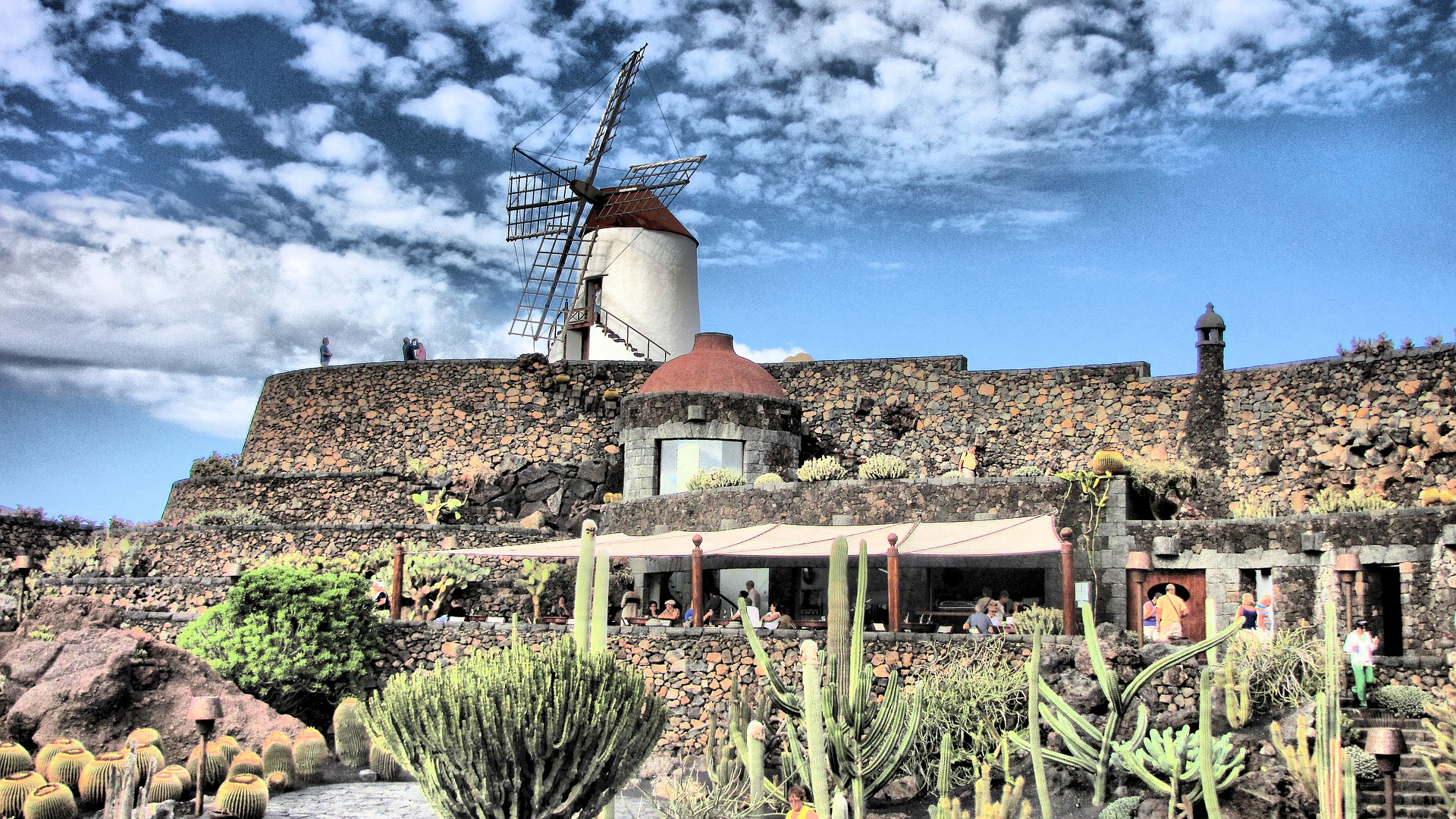 Given the amazing wind power sometimes in evidence on the island it comes as no surprise to learn that locals used to harness this to help improve their own daily lives by grinding gofio flour. And the windmill at the Cactus Garden is one of the best-preserved examples of these structures still standing on Lanzarote.
BEST TIMES TO VISIT THE CACTUS GARDEN
It can get pretty hot in the Cactus Garden. It's an enclosed bowl like space protected from the wind. So we always prefer to visit early or late in the day especially during the summer months, which is usually when there are also less tourists around.
The only real shade is provided by the giant sails covering the patio of the café – so go an enjoy a cactus burger if the heat proves too much!
CACTUS GARDEN OPENING TIMES
Winter 10.00 to 17.45
Summer 09.00 to 17.45 (15th July – 15th September)
CACTUS GARDEN ADMISSION PRICES
Adult €5.80
Child €2.90 (7 to 12 yrs)
PUBLIC BUS SERVICES TO THE CACTUS GARDEN
There are regular public bus services that run to, from and beyond the Cactus Garden in Lanzarote.
The Cactus Gardens are serviced by the Number 7, 9 and 21 buses and you can view a timetable here…https://www.arrecifebus.com/index.php?option=com_content&view=article&id=1299&Itemid=291&lang=en