BRUNCH AT THE CACTUS GARDEN, LANZAROTE
September 5. 2022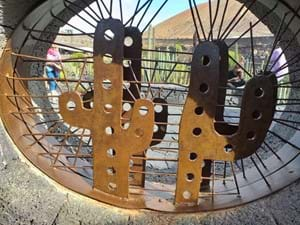 Brunch At The Cactus Garden, Lanzarote
Enjoy brunch for free at The Cactus Garden!  If you have booked seven nights or more direct with us in The Garden Apartment in September 2023 during the month of July then brunch is on us.  Just let us know your prefered day and time and we'll take care of the rest.
Holidays are made for late starts to the day and brunching – and the Cactus Garden, just a short stroll from Finca Botanico – is ideal for a laid back, mid-morning meal, or late breakfast at lunchtime!
The Cactus Garden is Lanzarote's leading botanical attraction – so it provides a beautiful brunch backdrop - and it's located around a five- minute stroll from the tropical gardens at Finca Botanico.
Here, guests can book a table on the outdoor terrace of the excellent on-site restaurant, which overlooks all the prickly plants and spiney species showcased within the walls of the Cactus Garden.
Brunch at the Cactus Garden is available every day of the week from 11.00 through until 15.00 – with the last seating available at 13.30. And as this attraction does get pretty busy during the day it is advisable to book in advance – which you can do here on the official tourist centre ticket site.
Book Your Own Brunch At The Cactus Garden Here 
The cost is €16 per head (which includes a glass of wine) and a full vegetarian menu option is available too.  Note that this doesn't include entrance to the Cactus Garden – which is currently €6.50 per adult.
Brunch Menu At The Cactus Garden, Lanzarote
Cheese
Glass of Malvasia wine
Natural yoghurt with Indian figs and granola
Butter croissant
Egg and bacon toast
Vegetable pie
Traditional pastries
Orange juice
Coffee/tea
Vegetarian Brunch Menu At The Cactus Garden, Lanzarote
Cheese
Glass of Malvasia wine
Natural yoghurt with Indian figs and granola
Butter croissant
Egg toast, tomato, avocado cream and rocket
Vegetable pie
Traditional pastries
Orange juice
Coffee/tea