GARDENS IN LANZAROTE - Botanical Gardens and Green Spaces
November 15. 2019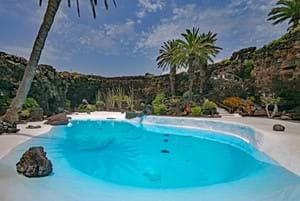 Gardens In Lanzarote To Visit
Searching for gardens to visit in Lanzarote? There is only one designated botanical garden in Lanzarote for tourists to explore. But for those in the know there are lots of other green spaces and places of botanical interest too…..
The Canaries - Spain's Nursery Garden
The Canary Islands boast a rich botanical history. During the expansion of the Spanish Empire in the 16th and 17th centuries this archipelago located just off the coast of Africa became a key trading post. With Spanish galleons transporting a rich variety of new plants and food stuffs from across the New World to the mainland via the Canaries – as well as via longer established trade routes to the east.
Mild year-round temperatures made the Canaries the ideal spot to acclimatise these new plant species before their introduction into mainland Spain. So in 1788 King Carlos III drew up a Royal Decree ordaining the opening of a brand new botanical garden in Puerto del la Cruz, Tenerife – the Jardin de Aclimatacion de Orotava. Which is now one of the oldest and best-known botanical gardens in the world.
Lanzarote - Challenging Climate and Conditions
Lanzarote lies at the eastern end of the Canary Islands chain, closer to the African continent and the western Sahara and is a much more arid island than Tenerife. Annual rainfall figures are far lower – just 150 mm per year.
There are few tall mountains prompting precipitation or deep valleys offering plants a protected spot out of the wind – as is the case on other islands such as Tenerife, Gran Canaria and La Gomera.
The Trade Winds, which once powered Spain's galleons towards the New World, sweep across Lanzarote from April through until August. Creating challenging conditions for any plant seeking to eek out an existence in some of the island's more exposed areas, where little can thrive. Whilst volcanic eruptions as recently as the 1820's covered around one quarter of the island in a thick crust of lava.
However despite these various challenges gardens still thrive here as locals adapt by creating micro climates and green spaces in more sheltered, protected spots and by sympathetically selecting plants suitable to the conditions and environment.
Botanical Gardens in Lanzarote
The Cactus Garden, Guatiza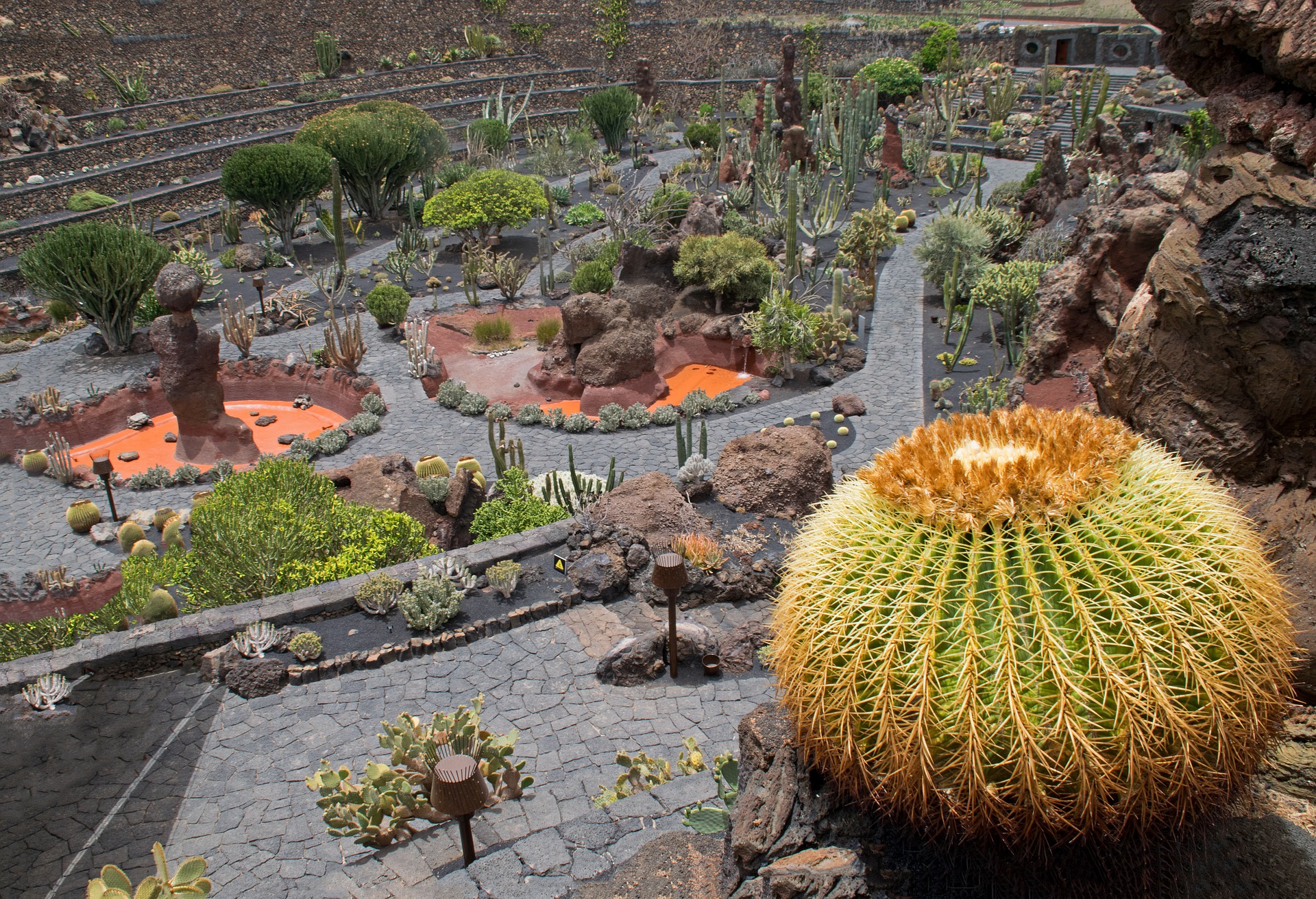 The Cactus Garden is the only officially designated botanical gardens to visit in Lanzarote. Cacti and succulents are combined to create a truly surreal garden-scape, set against the backdrop of a brick red former quarry.  And it's located just a short stroll away from Finca Botanico.
View our full Visitor Guide To The Cactus Garden
Other Gardens in Lanzarote To Explore
LagOmar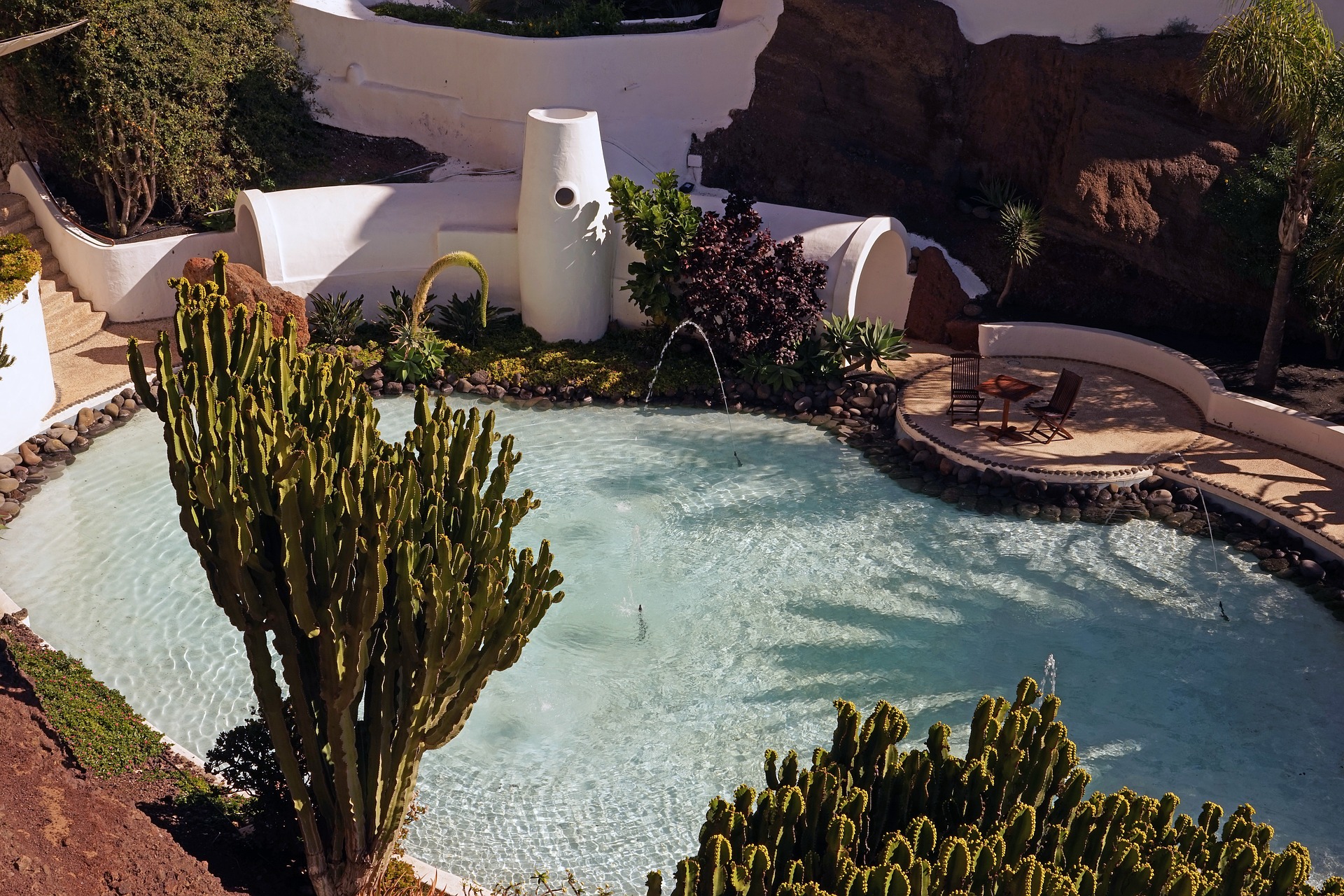 The former home of Omar Sharif took the theme of the Arabic folk tale 1001 Nights, on the suggestion of the local artist and architect Cesar Manrique. And there are plenty of Moorish influences in evidence throughout the gardens here, which enjoy a protected spot tucked into the side of a hill in a former quarry.
This sheltered site provides the perfect environment for a wide variety of mature palms – such as the indigenous phoenix canariensis, coco plumosa and morrocan date. As well as the enormous paddle like leaves of giant strelitzia nicolai. Along with an abundance of other exotica, encompassing cacti, agaves, bougainvillea and much more beside – all set against whitewashed walls and volcanic stone, separated into numerous smaller outdoor rooms and spaces.
By day this space operates as both a house museum and upscale (and arguably overpriced) restaurant. So up until 6pm you have to pay an entrance fee in order to enjoy the gardens. But after 6pm the cool little Cueva Bar opens up – allowing anyone to roam the gardens, drink in hand too!
Visit the LagOmar website for more information
Jameos del Agua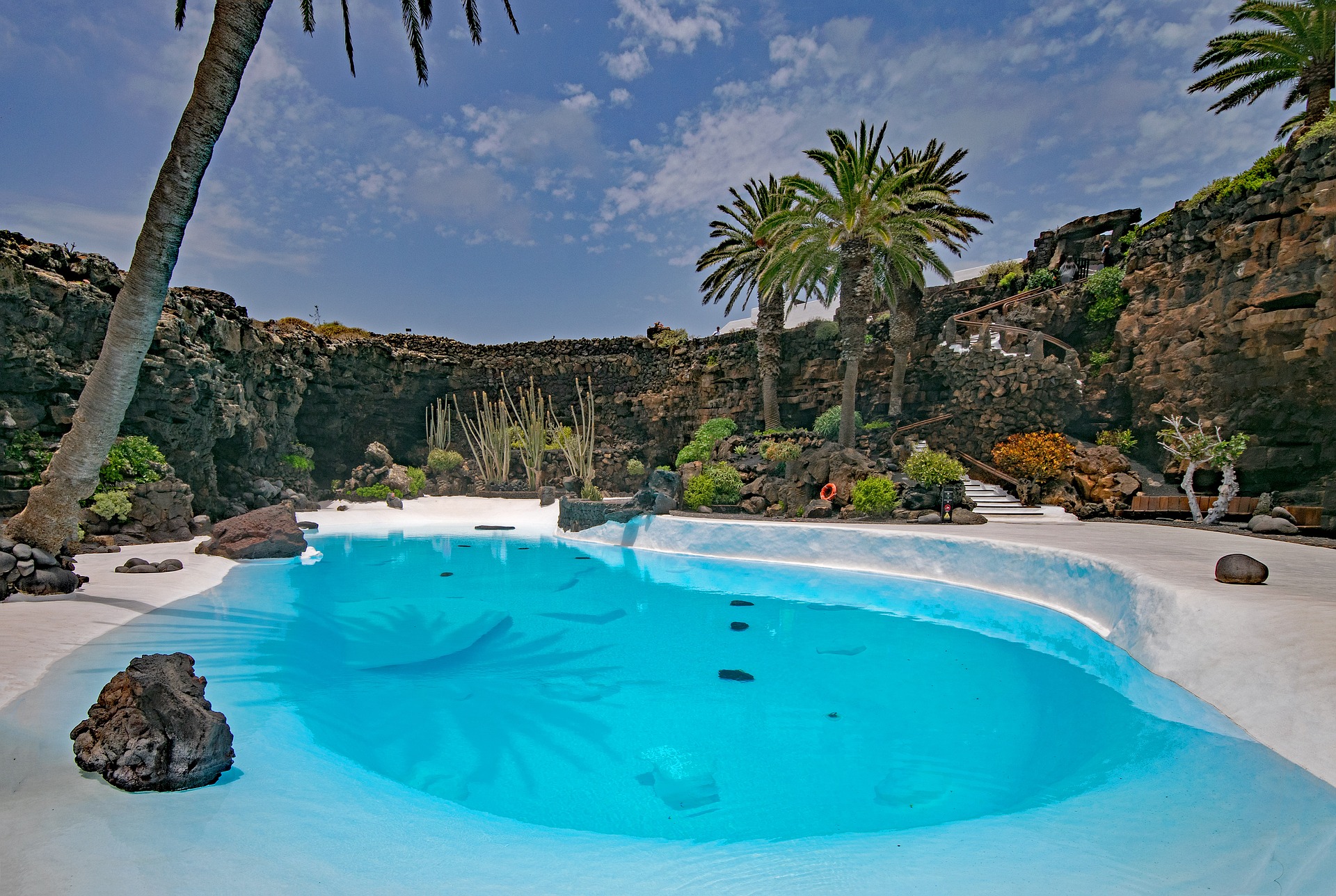 Carved out of a collapsed lava tunnel by Cesar Manrique this incredible space was originally conceived as a nightclub and concert space.  But now serves mainly as a daytime tourist attraction and is widely regarded as the best illustration of Manrique's philosophy of fusing art with nature.
The Jameos revolves around two bodies of water.  The first is a sea fed lagoon which is home to a unique species of blind albino crab found only on Lanzarote.  The second is a pristine swimming pool, reserved for the sole use of the King of Spain!  And both spaces are surrounded by planting – including shade lovers such as giant diplazium ferns hanging from huge old shrimping baskets and swathes of elephant's ear – alocasia portora.  As well as plenty of Canarian palms and fig trees.
Gran Melia Salinas Hotel
This luxury five-star hotel in Costa Teguise was created by Cesar Manrique in conjunction with Madrid based architect Fernando Higueras back in 1976.  And it is home to both stunning external grounds and a breath-taking internal atrium garden.
Manrique's modern interpretation of a traditional Canarian patio garden spans most of the ground floor area of the hotel and incorporates a wide selection of tropical plants, all of which thrive beautifully in this protected spot to create a real jungle effect.
The public spaces of the hotel are open to visitors and pathways wind through the atrium allowing for close examination of the many botanical wonders on display here.
Luis Villalba's Garden
Part garden centre, part show case for garden design services this isn't really a garden in the conventional sense.  But who cares?  As there are still scores of attractive plants on display including both indigenous and foreign species free of charge.
Local artist Villabla has a fondness for English garden styles and designs and this protected site in Conil is home to hundreds of primarily potted plants available for sale.
Visit Luis Villalba's website for more information
David Riebold's Garden
This private garden created by British expat David Riebold is packed with drought tolerant native species and enjoys a sheltered spot in the verdant village of Haria, in the Valley of 1000 Palms.
Inspired by Dr David Bramwell, a prominent botanist with an interest in Canarian plants this atmosperhic space is packed with examples of native flora, including rarities such as wild fresias.  The best way to enjoy this space is to book a break at one of the apartments available for rental here.
Visit the HariaLanzarote website for more information
Other Green Spaces In Lanzarote To Explore
Valley of 1000 Palms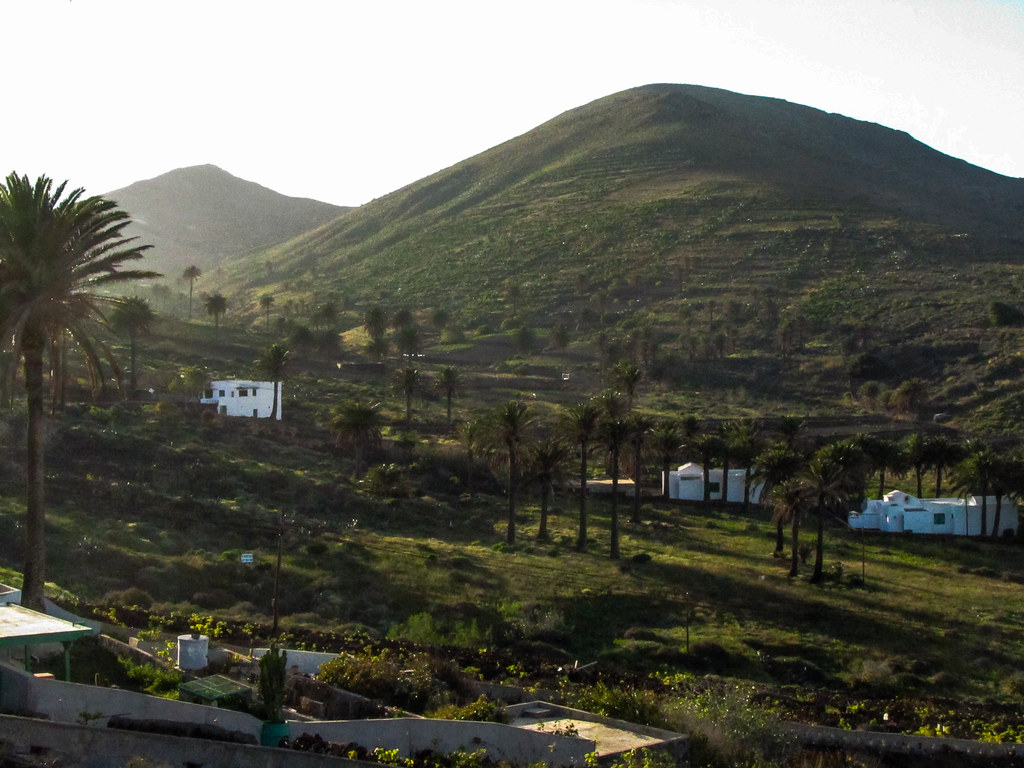 "Haria, Lanzarote" by Andrew Middleton is licensed with CC BY-NC-SA 2.0. To view a copy of this license, visit https://creativecommons.org/licenses/by-nc-sa/2.0/
The verdant Valley of 1000 Palms envelops the northern village of Haria in greenery and makes for a pretty breath-taking site.  Especially when approached from the north via the serpentine LZ1 that snakes down from the risco some 400 metres above the valley floor.
Again, this protection provides the perfect environment for plants such as the phoenix canariensis to thrive.  And local legend has it that villages used to plant a palm for every now born – one for a girl and two for a boy!
Tall palms tower above throughout the heart of the village – giving Haria a truly authentic Canarian feel.  Making this a great spot for everything from a gentle potter to a full on hike through the surrounding palm groves.
El Bosquecillo - The Little Wood
To the surprise of many visitors Lanzarote boasts its own little wood.  And whilst by no means a forest this hard to find spot atop the Risco de Famara is home to swathes of native species – including acacias, pines, thistles and wild fennel.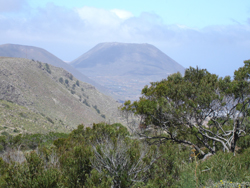 It's a popular beauty spot for locals and tourists alike, offering amazing views, great walks a playground and some BBQ pits.  And it's well worth seeking out as this is one of the few all natural green spaces on Lanzarote.