FIVE BEST PLACES TO EAT NEAR THE CACTUS GARDEN IN GUATIZA
April 14. 2021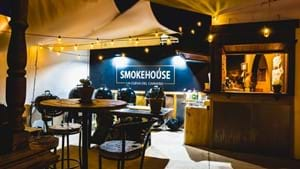 Restaurants Near The Cactus Garden in Guatiza, Lanzarote
There's an excellent selection of places to eat near the Cactus Garden in Guatiza, with restaurants offering everything from Italian through to Colombian cuisine and everything in between.
Our recommendations are all located within a convenient five-minute drive of Lanzarote's Cactus Garden, which is the leading botanical attraction on the island (you can read more about other green spaces and gardens in Lanzarote here).  It's also just a short stroll away from the mature tropical gardens at Finca Botanico - one of the most popular rural holiday rentals in Lanzarote.
And there's also a decent café-bar located within the Cactus Garden itself where visitors can enjoy a meal. More adventurous diners can even sample the delights of the world's first ever Cactus Burger. Along with a more conventional range of sandwiches, salads and tapas dishes.  And now it's also possible to book brunch at the Cactus Garden.
Places To Eat In Guatiza
There are two excellent restaurants in Guatiza, both of which are within a few hundred metres walk of the Cactus Garden.
Smokehouse - La Cueva de la Carnero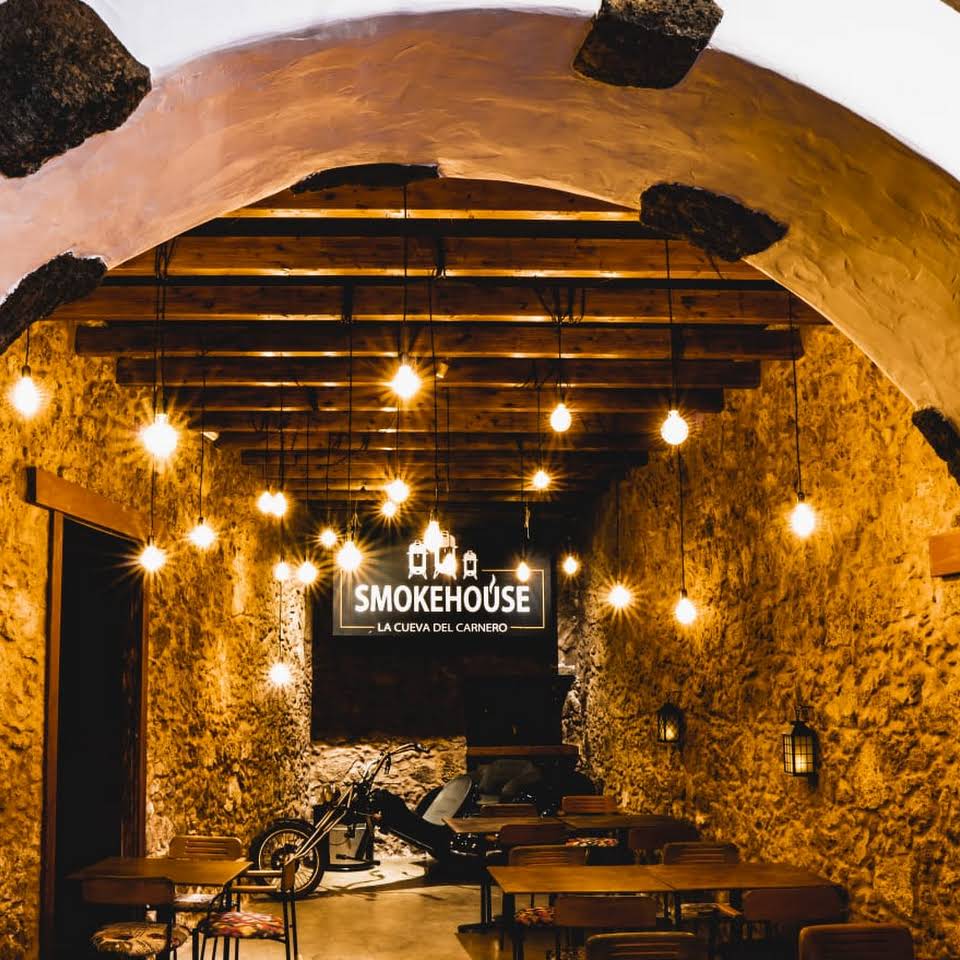 The closest of these is the Smokehouse which also enjoys the epithet of the meat eater's cave (it sounds more appealing in Spanish!).
And whilst mighty meaty meals are very much on the menu here don't let that put you off as this cool local venue is not just for cavemen only! As they offer plenty of seating outside in their patio area as well as a great selection of seriously tender meat dishes – thanks to the fact that they have all been slow smoked for around 12 hours.
The selection of dishes changes daily, but diners can usually choose from a wide selection of slow cooked meats, including pulled pork, baby back ribs, turkey and beef brisket. Some of which available stuffed into burger buns too or just simply accompanied by various sides such as corn bread and coleslaw.
Vegetarians can also enjoy dishes of mixed smoked vegetables, including onions, peppers, courgettes, carrots and aubergines. All of which can be washed down with a selection of craft beers and decent local wines.
Smokehouse is located in Calle Albahaca – which is the last left before you reach the Cactus Garden as you drive through the village.
There is no reservation system as such, although you can contact them via their website, listed below – just turn up and they will take care of you.
Prior to the pandemic the venue was also hosting live music nights at the weekend, but these are yet to be reinstated.
Opening Hours
CLOSED MONDAY, TUESDAY, WEDNESDAY Thursday, Friday, Saturday 13.00 – 23.00 Sunday 13.00 – 17.00
Website https://la-cueva-del-carnero.negocio.site/
Restaurant Tasca de Lita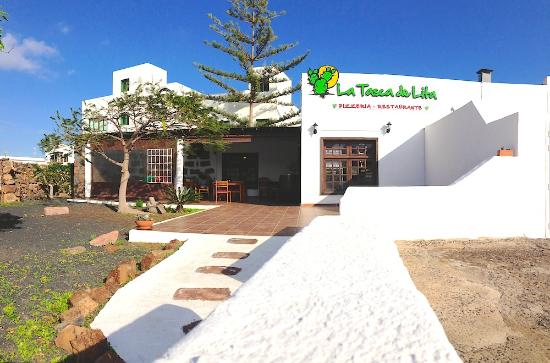 Tasca de Lita is a firm favourite with our guests as it is located just a couple of minutes-walk away from Finca Botanico, on the right-hand side as you enter the village of Guatiza. And this friendly spot boasts a pretty-front garden and patio terrace for outdoor dining, as well as plenty of tables indoors.
All of the action here is orchestrated by the charming Erica, alongside her predominantly Italian team. And this is definitely the place to head to if you want to enjoy a genuinely authentic pizza or focaccia, although their menu extends way beyond just these Italian standards alone.
Amongst our favourite main course options are salt cod in saffron sauce and there are plenty of other options encompassing fresh meats, fish and salads too.
As you'd expect from an Italian owned eatery their Tiramasu is bang on the money. Takeaways are also available.
Opening Hours
Currently closed until June 30th 2021
Telephone 0034 928 529744
Places To Eat In Mala
Mala is another typical whitewashed village and is located just a few minutes-drive beyond the Cactus Garden in the direction of Arrieta.
The road to Mala winds through fields of the emblematic Tunera cactus, which once provided the basis for Lanzarote's cochineal industry back in the 19th century, prior to the advent of synthetic dye stuffs.
Such is the significance of this industry that there's even a small museum located in Mala directly opposite the two restaurants we have recommended below. Providing a post-dining diversion for anyone interested to learn more.
Restaurant Don Quijote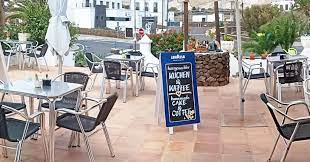 This charming German owned restaurant has a pretty front garden which frames a generous terrace area set back from the quiet main road that passes through the village. Where patrons can enjoy dining outdoors and watching the world pass by.
The owners Marc and Stefanie provide a warm welcome along with a varied and reasonably priced menu, which encompasses some popular ever-present staples which are supplemented by a variety of daily specials. Typical starters include cheese marinated in beer (better than it sounds!), fish soup, falafel with yoghurt.Whilst their signature veal burger and fries is a stand out main course selection, along with Iberico spare ribs in BBQ sauce, a variety of fresh fish options, fish empanadas and delicately spiced Moroccan chicken.
Vegetarians will also find plenty to pique their interest too in the form of various salad and pasta options. They serve tasty desserts too – look out for the strudel – along with great coffee and a good selection of beers and wines. And there is often live music on Friday nights – events that have proved very popular with guests staying at Finca Botanico.
Opening Hours
Note – these times may change once Covid restrictions are fully lifted. Monday to Thursday 12.00 – 22.00 Friday 12.00 – 01.00 Saturday CLOSED Sunday 17.00 – 22.00
Telephone
0034 928 529301
La Arepera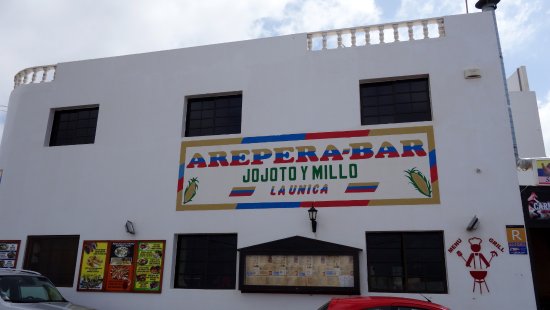 For the uninitiated an arepa is a staple feature of both Colombian and Venezuelan cuisine – and comprises a disk of fried ground maize dough which is served with a whole variety of different fillings, including chicken, avocado, ground beef or fish.
Alongside this delicious dish La Arepera offers a large selection of other well priced menu options, spanning other South American favourites such as fried yucca through to Mediterranean mainstays including loads of fresh fish and meat options as well as wide range of salads.
This family run place has a warm, friendly and completely unpretentious vibe and is ideal for anyone with a larger appetite as the servings are usually on the large side and very good value for money. Making this a popular spot with locals, tourists and the many members of Lanzarote's large South American community.
Opening Hours
Closed Monday and Tuesday Wednesday – Sunday 12.00 – 21.00
Telephone
0034 928 529650
Cantina de Mala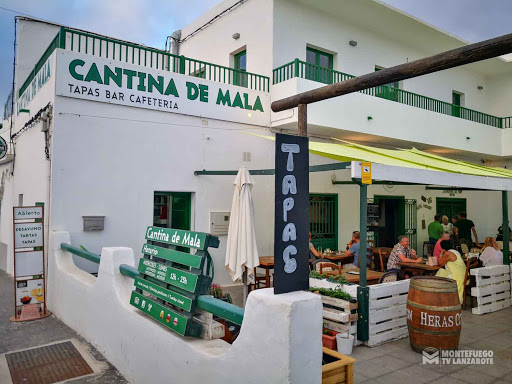 Located just a few hundred metres on the right-hand side after you pass Restaurant Don Quijote there's no mistaking what sort of meal you are in for at Cantina de Mala. As the word Tapas is emblazoned in huge writing on the side of the building!
And reasonably priced tapas is very much what you get here, along with a good selection of main courses which includes vegetarian lasagne and a seafood casserole, as well as meat feasts such as their ever popular Berlin Currywurst meatball….all of which can be enjoyed outdoors on their terrace.
The tapas selection includes….
Beef meatballs €3.75
Chicken Croquettes €5.25
Caramelised onion, pear and fresh goat's cheese €5.45
Deep fried Yucca €3.70
Papas Arrugadas (wrinkly potatoes) with mojo €4.80
Padron Peppers €5.15
Garlic Prawns €6.95
Diablo Prawns €7.15 (with ginger, garlic and balsamic vinegar)
Anchovies in Vinegar €4.95 As is traditional, all dishes are served with hunks of bread for dipping and general enjoyment and beers, wine and coffee are all available. And on Sundays there is live music and roast chicken!
Opening Times
Monday – Saturday 15.00 – 21.30 CLOSED TUESDAY Sunday 13.00 – 20.00
Telephone 0034 622 634897
Website