WHERE TO STAY IN LANZAROTE
May 5. 2021
The Best Places To Stay In Lanzarote
Where are the best places to stay in Lanzarote if you are looking to connect with the real authentic heart of the island, away from the main resorts?
Lanzarote is a beautiful island, bursting with authentic, unspoilt character and full of natural wonders. Away from the three main resorts of Puerto del Carmen, Costa Teguise and Playa Blanca there are a wealth of whitewashed villages nestled in pristine countryside and stunning scenery for visitors to experience.
These days there are also loads of rural holiday rentals in Lanzarote to choose from. Which means anyone seeking to discover the real Lanzarote is spoilt for choice. Here we take a closer look at our Top 10 locations on Lanzarote……
Guatiza
Why Stay in Guatiza? Cactus Garden, authentic and peaceful rural location, close to Arrieta beach, good restaurants nearby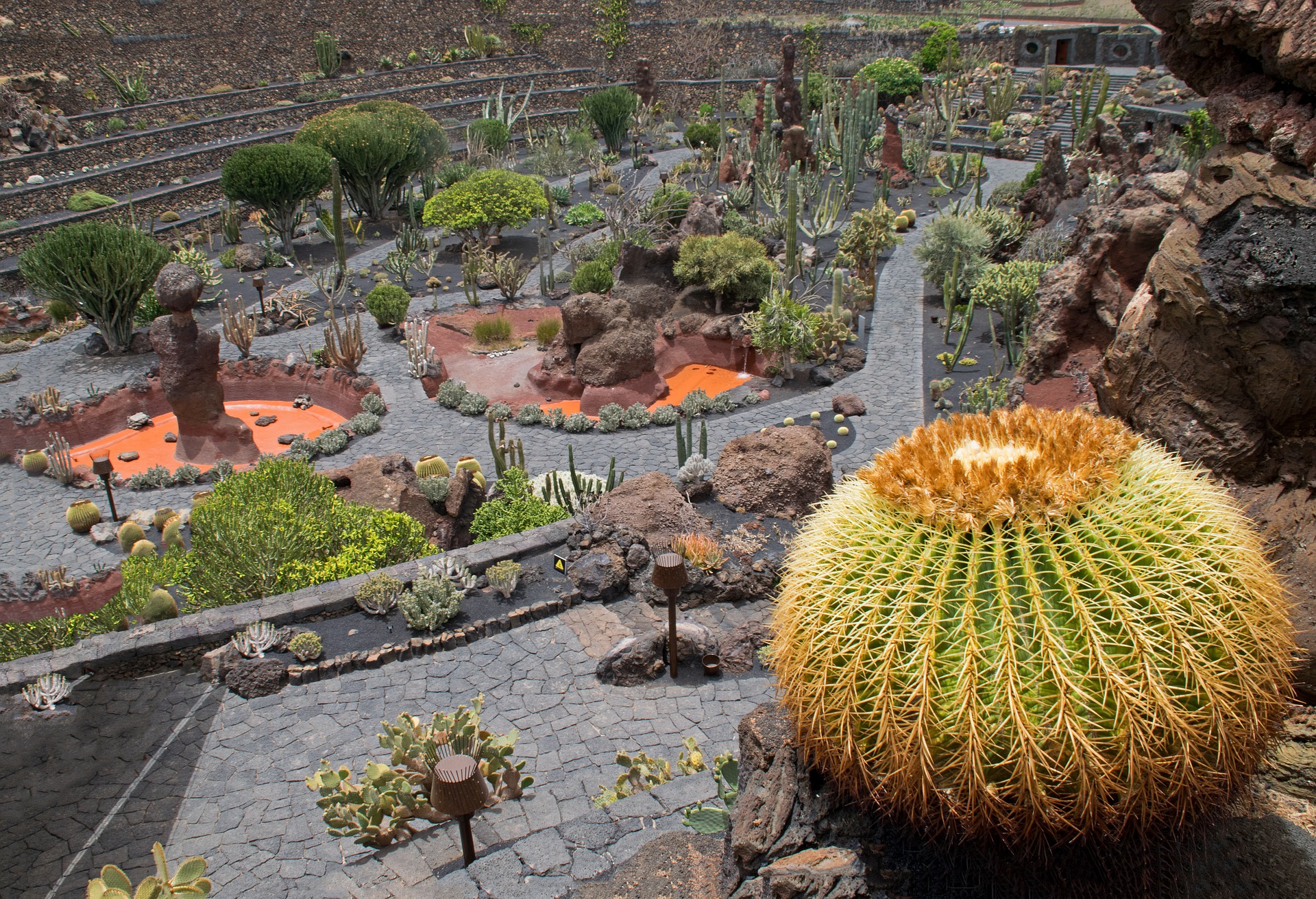 OK, we are biased as this is where Finca Botanico is located. But we bought and renovated this lovely 300 year-old finca for good reason as it is located close to Lanzarote's leading botanical attraction, the Cactus Garden.
Whilst the village itself boasts loads of authentic rural charm, as well as decent restaurants, a small supermarket and a couple of bars – which provides a little more life than some of the other villages on the island whilst still offering total tranquility.
Guatiza is in fact the only village on the island which can boast one of Cesar Manrique's main attractions right on its doorstep and our guests love the fact that this amazing collection of the plant worlds spiniest species are just a short stroll away from their accommodation.
Guatiza remains the heart of Lanzarote's cochineal industry, which was a major source of income back in the 19th century and accounts for the many fields filled with tunera cactus around the village. As well as the proliferation of wealthy merchant's buildings – many of which are fine examples of traditional whitewashed Canarian architecture.
Throw in close proximity to one of the best unspoilt beaches on the island just five minutes away at Arrieta and its little wonder that Guatiza is such a popular location for a rural break on Lanzarote.
Teguise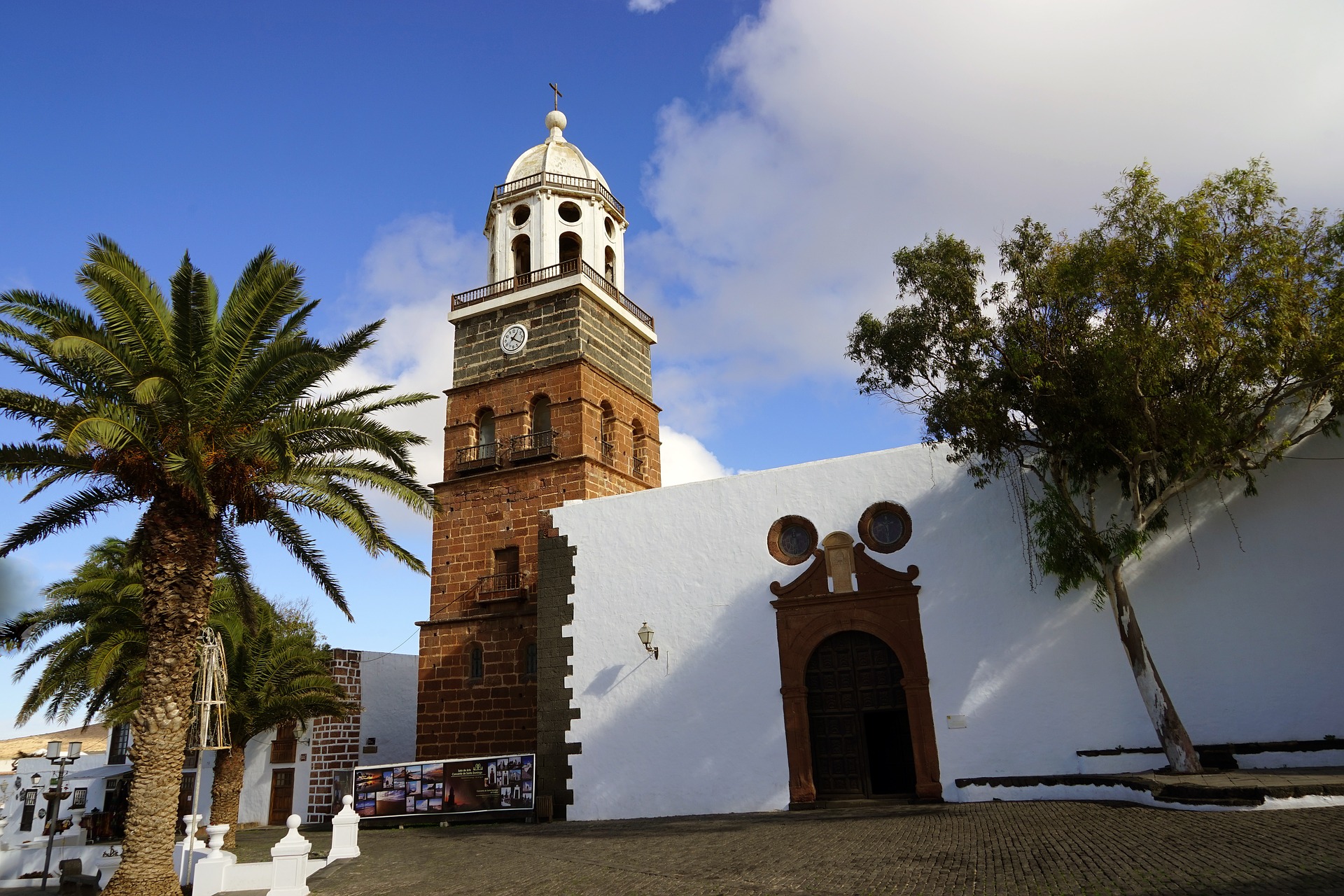 Why Stay In Teguise? History, architecture, Sunday market, great selection of restaurants.
Teguise is something of a time machine as this is the oldest settlement in the whole of the Canary Islands, dating back to the 1400's. Boasting a wealth of history, quiet cobbled streets and the best examples of traditional architecture on Lanzarote.
There are plenty of bars and shops too, but the former island capital really comes to life every Sunday when the weekly market takes place and the streets throng with thousands of visitors, both locals and tourists alike.
There are plenty of interesting walks and one of the island's best beaches at Famara is around a 10 drive away.
Femes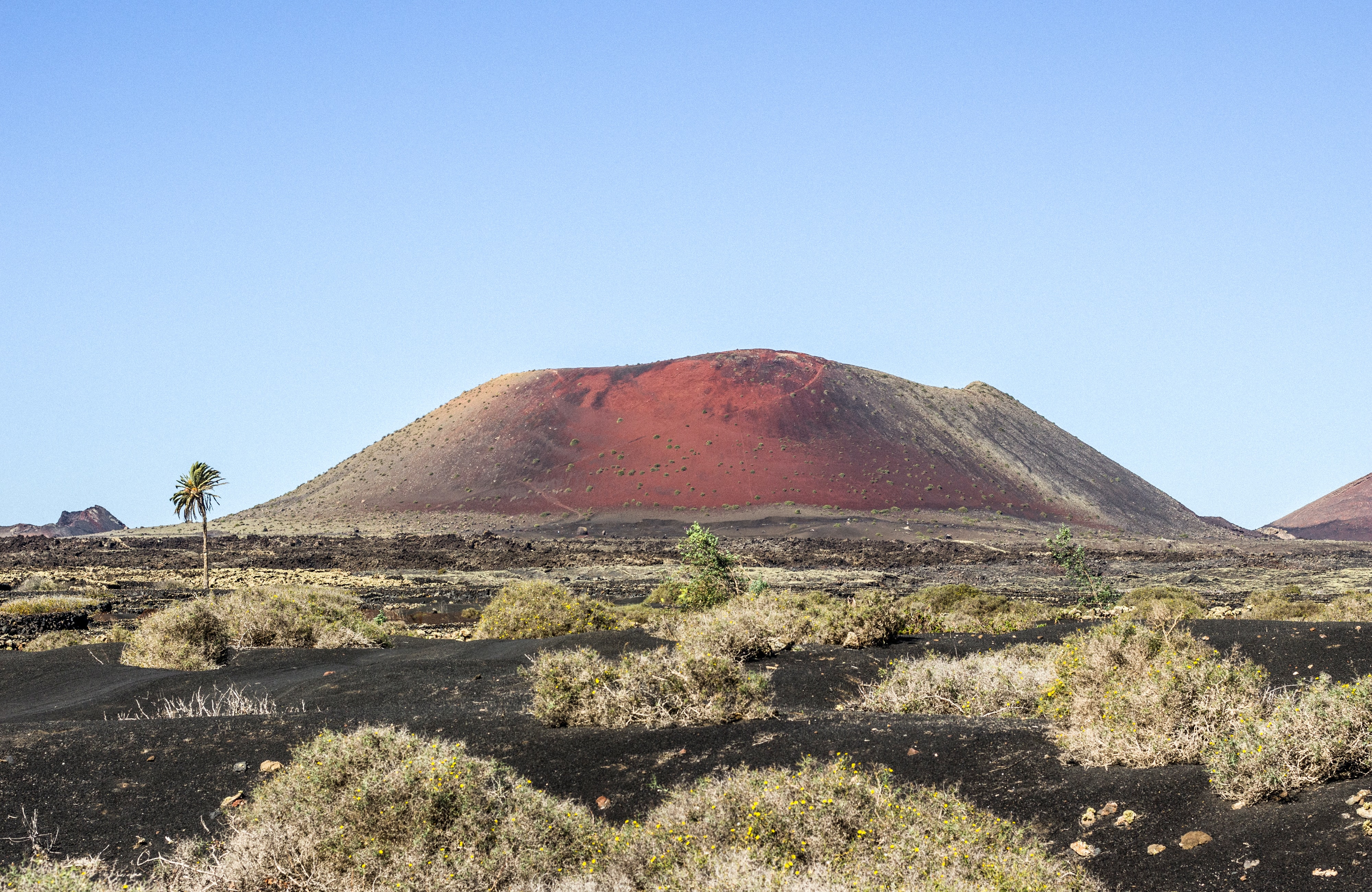 Why Stay In Femes? Amazing views, good restaurants, close to the Timanfaya National Park, close to the beaches at Papagayo.
Femes is a very pretty little village – and is home to El Balcon – a great viewing point which looks down to the resort of Playa Blanca and the Atlantico Ocean about 200 metres below.
There's a village bar and a couple of decent restaurants and Femes is also just a 10-minute drive away from the beautiful and unspoilt bays and coves of Papagayo – which are widely regarded as the best natural beaches on Lanzarote. 10 minutes in the other direction and you can find yourself driving into the surreal scenery of the Timanfaya National Park, scene of enormous volcanic eruptions in the 1730's which have left this region of the island resembling a lunar landscape.
El Mojon
Why Stay in El Mojon? Total tranquility, authentic rural village, sea views
The little-known village of El Mojon lies way off the beaten track, tucked away in the heart of the countryside close to Teseguite and Teguise this charming pueblo boasts some fine examples of traditional whitewashed architecture and an abundance of peace and quiet.
Indeed, this location is so obscure that traffic rarely even passes through, creating a hushed ambience which is just ideal for anyone seeking to really get away from it all.
There's not a great deal to do here, beyond relaxing and soaking up the sea views. Although there is a small Sociedad (social club, open to all) located in the village which serves decent food and drink.
Famara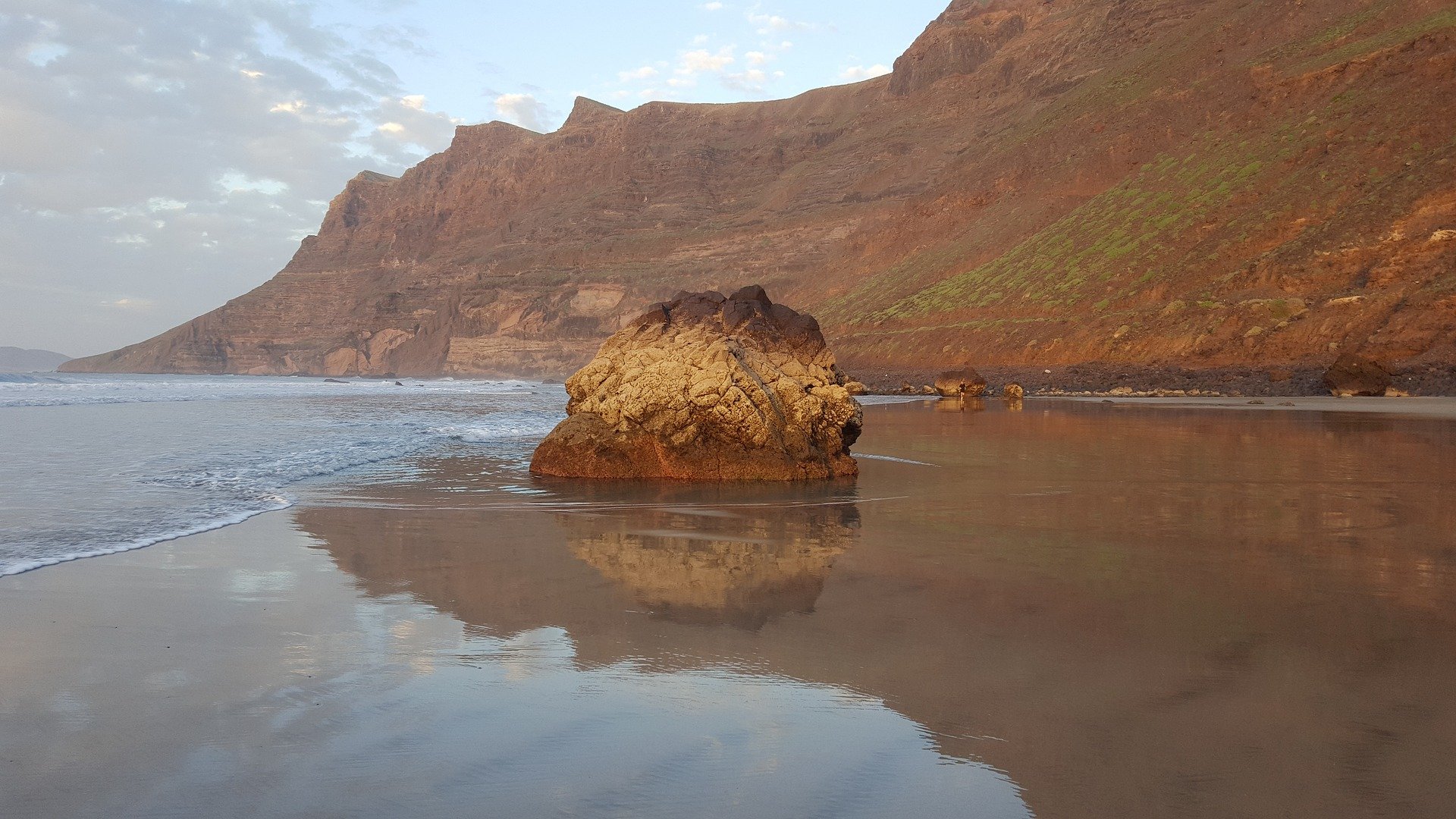 Why Stay in Famara? Amazing natural beach setting, great sea views, ideal for board sports, good selection of restaurants.
Famara is home to one of the most beautiful unspoilt beaches on Lanzarote. It's located on the slightly wilder and more rugged north east coast of the island, which creates the ideal conditions for surfers and windsurfers.
The beach itself is a real stunner – around 5km of horseshoe shaped bay flanked at one end by the 500 metre-high cliffs of the Risco de Famara, whilst just off shore lies the near neighbouring island of La Graciosa.
As a surf village Famara has a chilled, laid back vibe and its sandy streets are home to a wide selection of good quality restaurants and bars. There are lots of self -accommodation options available in the village itself but for our money the better choice are 'The Norwegians' – the complex of semi-circular shaped pads that directly overlook the beach. Named after the nationals who first colonised this part of the island when tourism was taking off back in the 1970's.
Tabayesco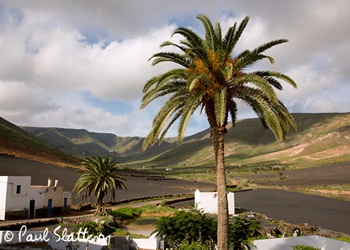 Why Stay In Tabayesco? Great sea views, beautiful valley walks, close to Arrieta, wide selection of accommodation options.
Tabayesco enjoys a truly unique location as this pretty whitewashed village is situated right at the mouth of a valley, in an elevated position looking down at Arrieta beach just 1km away. As a result, anyone staying here can enjoy both sea and valley views whilst great walks into the Valle de Temisa are, quite literally, right on the doorstep.
This is another quiet and peaceful rural village, full of charm. Whilst Arrieta boasts a great beach the quality of accommodation in the village itself isn't great and is largely limited to small apartments with little in the way of outdoor space. As a result, those in the know tend to stay up in Tabayesco instead which means that quite a large percentage of the pueblo's properties have been given over to holiday rentals.
Agriculture is still very much in evidence in the valley, where donkeys bray and local farmers grow a wide variety of crops including vines and maize.
El Golfo
Why Stay in El Golfo? The Green Lagoon, dramatic sea views, excellent selection of restaurants.
El Golfo is another one of Lanzarote's stunning seaside villages, located on the same wild and rugged Western coast as Famara. The sea is more often admired from a distance than swum in here. But there are plenty of other attractions, not least the long line of superb seafood restaurants that adorn the seafront shoreline – all serving the latest catch of the day in al fresco outdoor surroundings.
As well as great places to eat El Golfo also offers a real feast for the senses as it is also home to the natural wonder of the Green Lagoon, one of Lanzarote's most popular natural wonders. Which has also served as the location for numerous film shoots, including Pedro Almodovars Broken Embraces and One Million Years B.C.
This part of the coastline is also home to a number of black sand beaches where the semi-precious stone olivine can be found in abundance. The Boiling Pots of Los Hervidores are also close by, whilst the Timanfaya National Park is just a short drive away.
Haria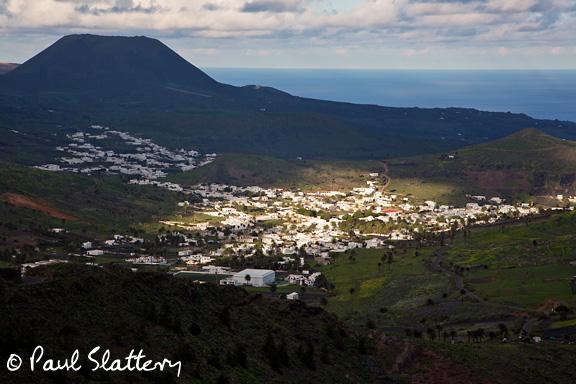 Why Stay In Haria? Stunning scenery, palm tree overload, Cesar Manrique's House, Saturday market, good selection of restaurants.
Haria is a truly typical Canarian village and one of the best-looking spots on Lanzarote, thanks to its location on the floor of the Valley of 1000 Palms. The village is located around 200 metres above sea level and from its higher reaches you can enjoy some sea views.
But this location is really all about the stunning, palm-packed countryside surrounding the village, which creates a really relaxing atmosphere and energy.
There's plenty to do here too – as the village is home to Cesar Manrique's House – his last residence on the island which is open to the public, providing an intimate insight into the life of Lanzrote's favourite son.
Whilst every Saturday morning the main square in the village comes alive as the weekly market takes places, with stalls selling everything from organic fruit and veg to local arts and crafts and plenty more in between.
Punta Mujeres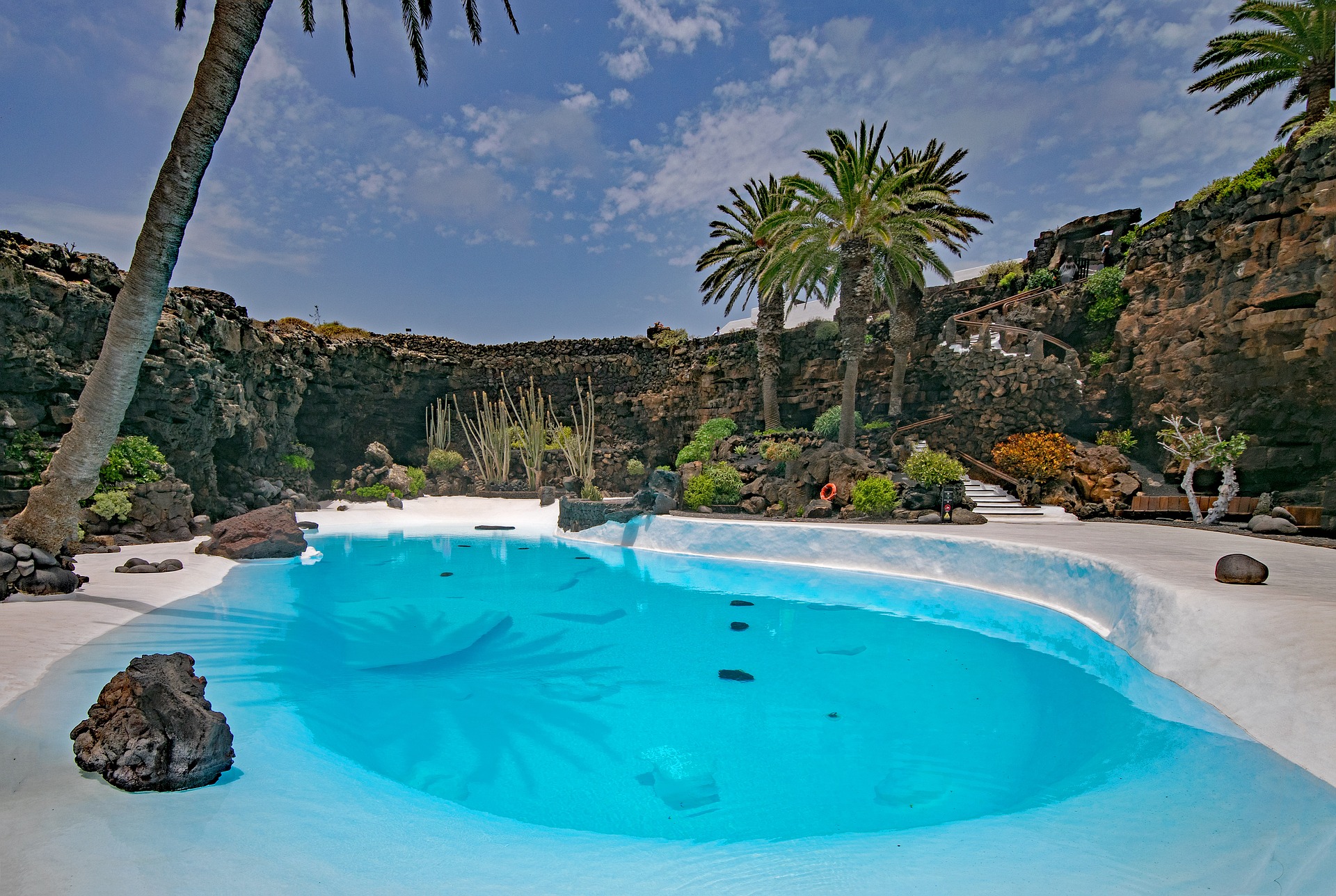 Why Stay In Punta Mujeres? Coastal pools, sea views, good restaurants, close to Arrieta beach, close to Jameos del Agua.
Punta Mujeres is located on Lanzarote's North East coast, very close to the beach at Arrieta which is just a 1km walk away.
This picturesque pueblo doesn't have its own stretch of sand, but instead boasts a series of man-made coastal pools that line the seafront. And which are ideal of bathing, especially when the sea itself is a little too rough to swim in.
The village is also close to arguably Cesar Manrique's most outstanding creation, the jaw dropping Jameos del Agua. Where he converted a collapsed lava tube into an amazing underground auditorium and gardens – complete with bars and restaurants and loads of nooks and crannies to explore.
There's a good selection of local restaurants as well as a couple of supermarkets, making this a good choice for a self-catering holiday in an authentic coastal village.
La Geria
Why Stay In La Geria? Wine, bodegas and stunning scenery.
If you like wine then La Geria is the location for you. This region is home to the bulk of Lanzarote's leading bodegas, as well as the El Grifo Wine Museum. And the scenery here is totally unique – created by the local methods of viniculture, where vines are grown within semi circular stone walls, called zocos' to protect them from the strong winds that can sometimes sweep across the island.
Lanzarote boasts 13 official bodegas and a tour through this region is an absolute must for any wine lover. Not least as the quality of local product seems to keep improving year on year. There are also some excellent little restaurants dotted around the region, some of which are operated by the bodega's themselves.