PLANTS IN LANZAROTE – Plant Life and Flora in Lanzarote
December 13. 2019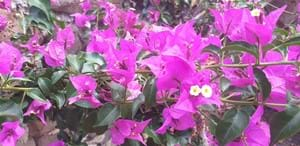 Plants in Lanzarote - Island Plant Life
What sort of plant life will you encounter when you visit Lanzarote? What plants, flora and vegetation thrive on this arid little Canary island? Find out which plants commonly crop up in hotels and gardens here on Lanzarote.
There are plenty of local guides to rare and hard to find indigenous plant species on Lanzarote and we've included a link below to the free Lanzarote Biosphere plant guide – but here we cover off the plants that most visitors are going to come into regular contact with when they visit the island.
Many first-time visitors are surprised by the sheer diversity of plant life on Lanzarote.  Guidebooks describe an arid and denuded island, rocked by volcanic eruptions as recently as 1820 and raked by strong, drying winds.  And as you come into land at Arrecife Airport it really doesn't look that promising for plant lovers – as at first glance there doesn't appear to be much in the way of greenery or trees to catch the eye.
First impressions however are often deceptive – and Lanzarote is no exception. As the clement climate conditions in the Canaries are in fact very conducive for the cultivation of a wide variety of plant species – both endemic and imported. And there are in fact many green spaces and gardens in Lanzarote for visitors to explore.
Canary Island Plantlife - A Potted History
Back in the 1700's the Canaries became the plant nursery for the royal court of Spain. Species from the New World were transported to islands such as Tenerife by Spanish galleons, where King Carlos III established a botanical gardens to acclimatise these new finds.
Many of these species also found their way to Lanzarote – and like the rest of the Canaries the island is now home to a wide variety of tropical and sub-tropical plants drawn from all around the world. 
Plants Endemic to Lanzarote
Here are just a few of the indigenous plant species that crop up across the island and which often feature in local gardens – or are common in the wild too.
Canary Island Date Palm - Phoenix canariensis
Without a doubt, the most ubiquitous plant species on the island the Canarian Palm, Phoenix canariensis, is indigenous to all of the Canaries, including Lanzarote and crops up both in the wild and within many gardens too.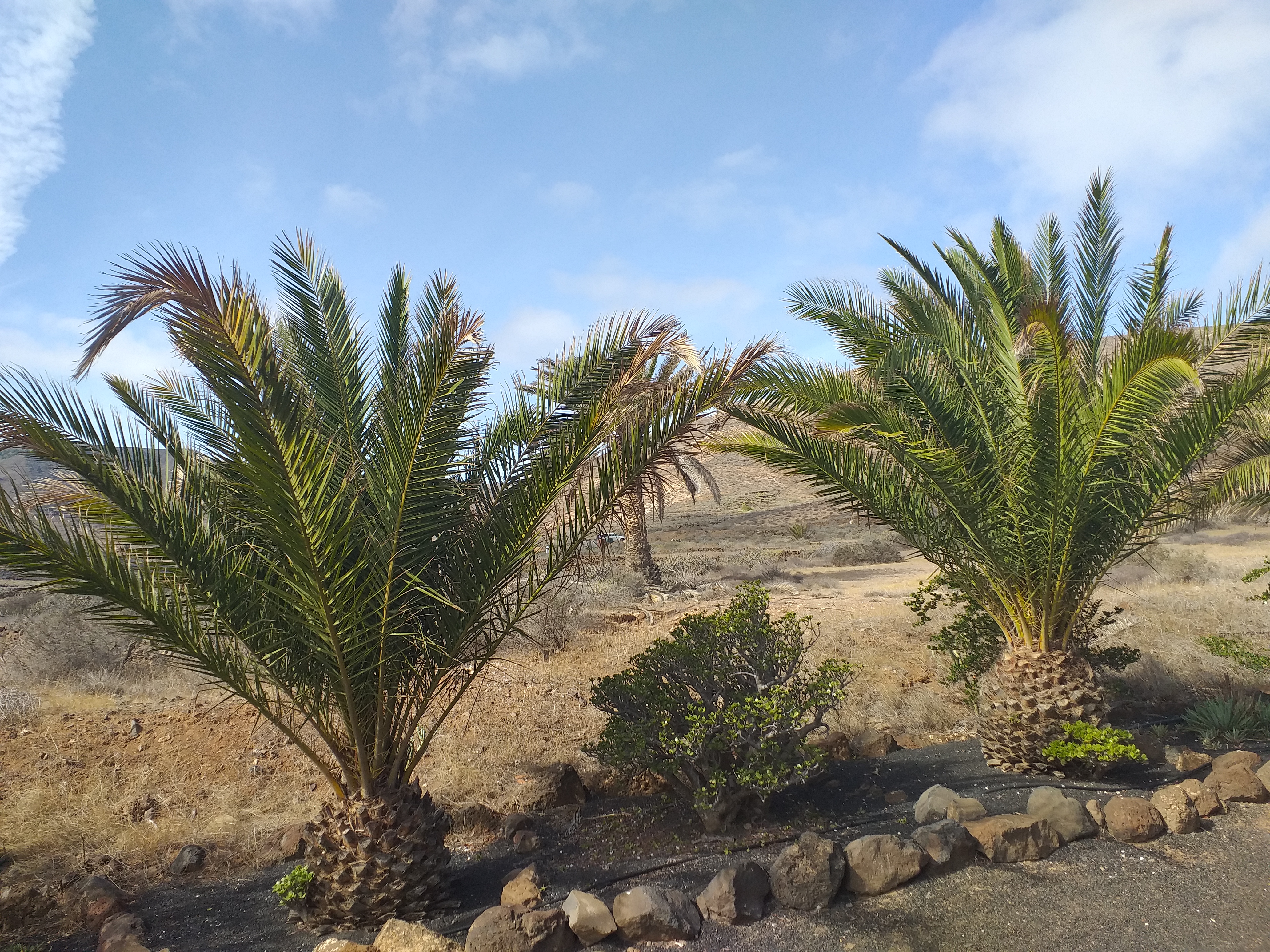 It can be viewed to best effect in its natural environment – which is in the aptly named Valley of 1000 Palms in the North of the island, encompassing the pretty and authentic village of Haria. Where local legend has it that villagers would plant a new plan for every new-born girl – and two for every boy!
Phoenix canariensis is a very close relative to the African date palm – but with a fuller crown, and darker green fond.  It also fruits as well – although these are not particularly palatable!  Whilst on islands such as La Gomera the sap is extracted to make palm syrup – which is far tastier than the fruits and a fairly common ingredient in Canarian cuisine.
The Canary Island palm is pretty hardy too – it can cope with temperatures of up to minus 10 degrees Celsius.  So increasingly it can be seen cropping up in Northern Europe, for example along the so-called English Riviera.  And it has become naturalised in areas such as Florida and California too – so much so that it is now regarded as invasive.
The Dragon Tree – Dracaena draco
OK, so strictly speaking the Dragon Tree is a native of Tenerife and Gran Canaria where it first thrived in more forested zones.  But there are specimens in cultivation on Lanzarote of substantial antiquity and size (they can reach up to 20 metres in height) and this particular plant enjoys an iconic status in the Canaries – having appeared in the famous painting by Hieronymous Bosch, The Garden of Earthly Delights.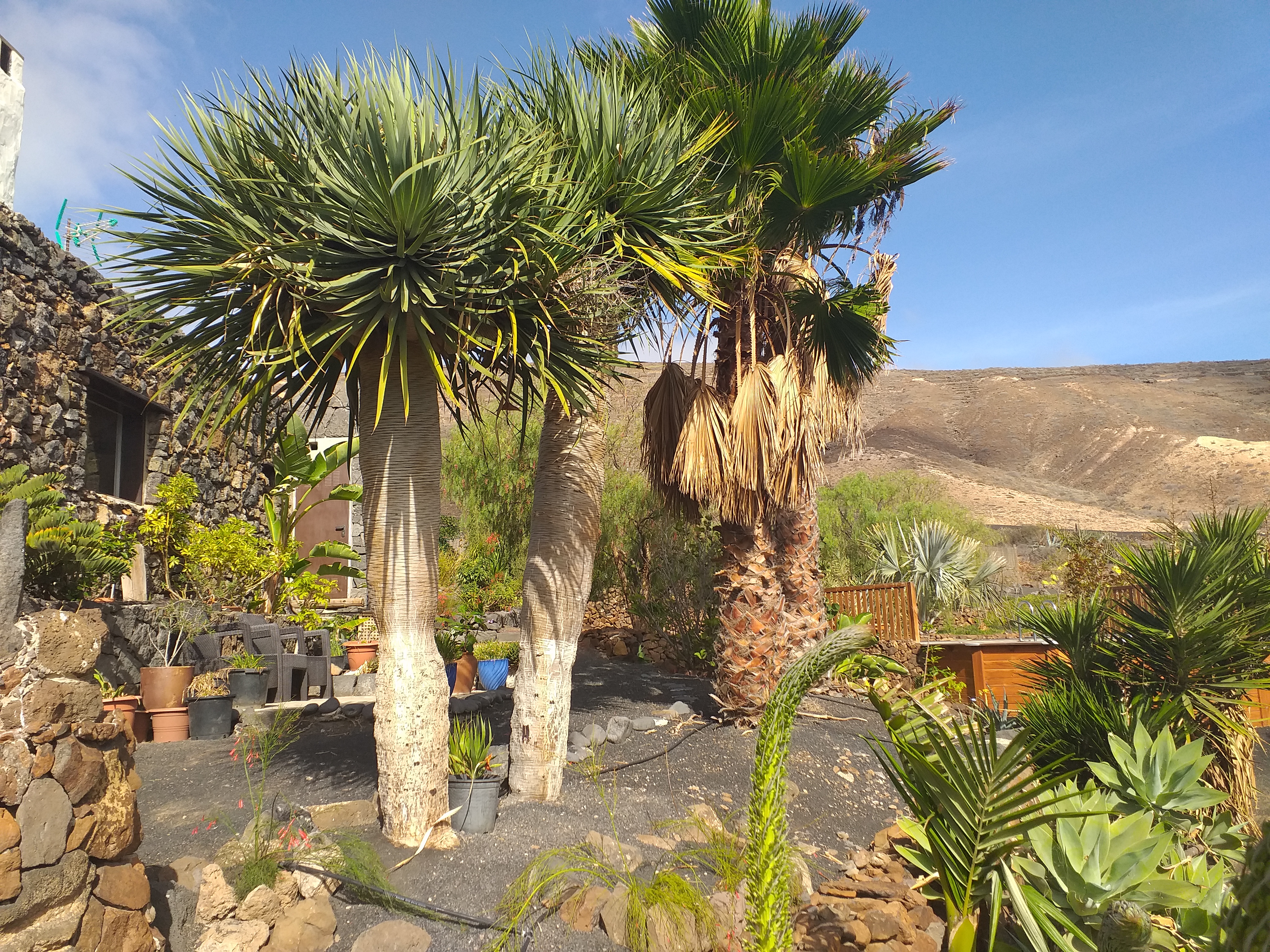 We also have a very handsome example growing beautifully in the Garden Apartment at Finca Botanico.
Once the Dragon Tree has flowered it has reached maturity and then begins to bifurcate, creating new branches and a very attractive structure which creates enormous interest in any garden setting.
Tabaiba Dulce – Euphorbia balsamifera
The official plant symbol of Lanzarote and part of the enormous euphorbia genus, Tabaiba dulce (sweet Tabaiba in English) is a truly endemic species and can be found growing wild in the North of the island in and around areas such as Tabayesco, Haria, Orzola and in the South around Playa Quemada.
Depending on prevailing weather conditions and protection from the wind it can vary in size from a low growing shrub to a small tree some 5 metres tall.
Freebie Alert - Lanzarote Biosphere Plant Guide Download
The Lanzarote Biosphere organization produce an excellent free online guide (in Spanish, with good quality pictures and illustrations), to all of the indigenous plant species on the island. Just visit the Lanzarote Biosfera website to download your own copy.
Garden Plants in Lanzarote
As well as native and near native species there's also a wide array of imports that are a staple in many gardens on Lanzarote. Here's a selection of some of our personal favourites...
Agave attenuata
This species features in many private, public and hotel gardens across the island and is highly prized as unlike other agaves it boasts soft leaves, a beautiful ornamental flower like form and a flowering stalk which resemble a swan's neck – unique in contrast to other forms of agave flowers which extend erectly instead.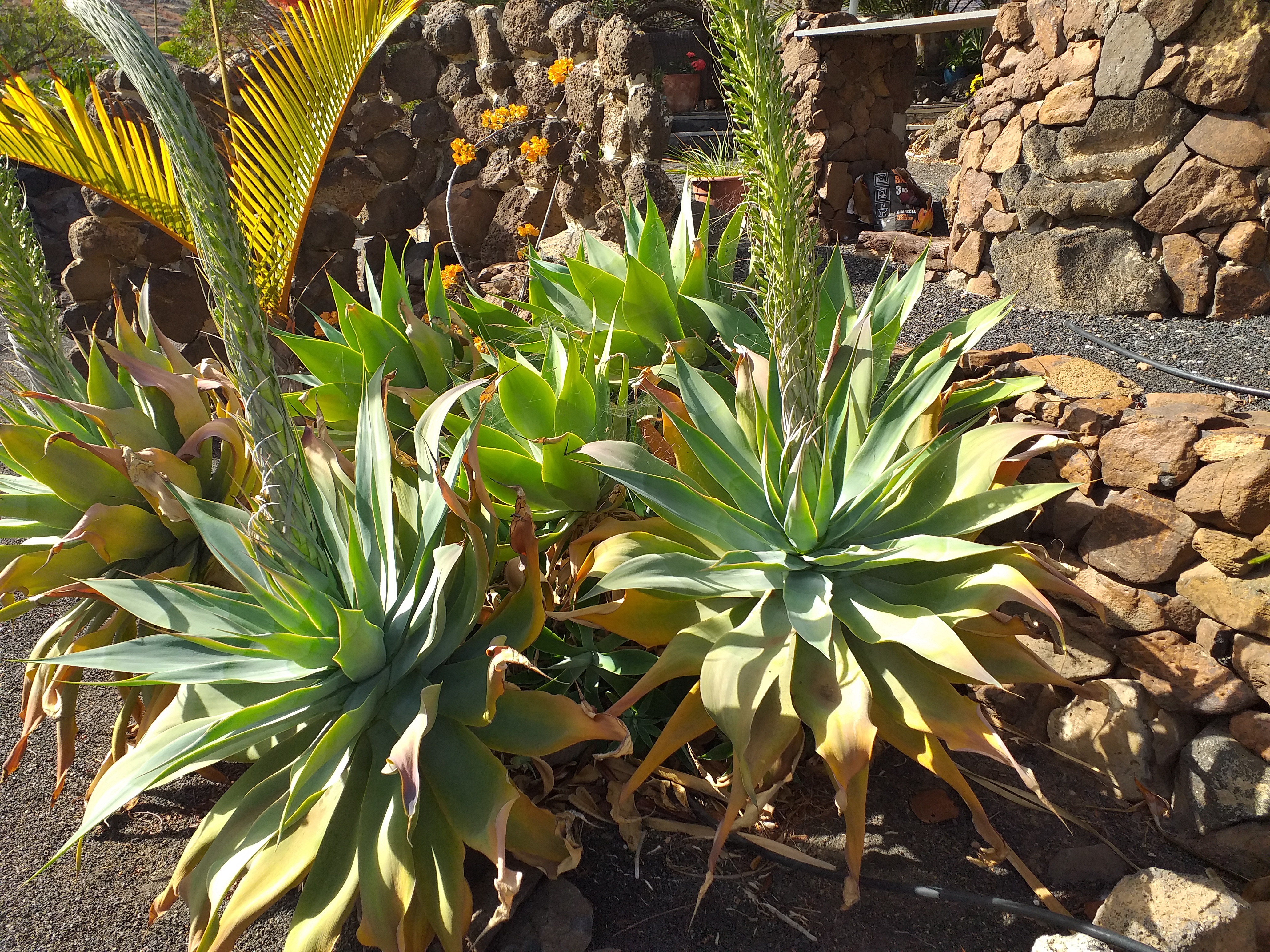 This flowering form has also earned this agave the colloquial title of lion's neck or foxtail and it originates from the state of Jalisco in Mexico.  Like other agaves it forms colonies, so continually regenerates as flowering plants die away and is also simple to propagate. 
Bougainvillea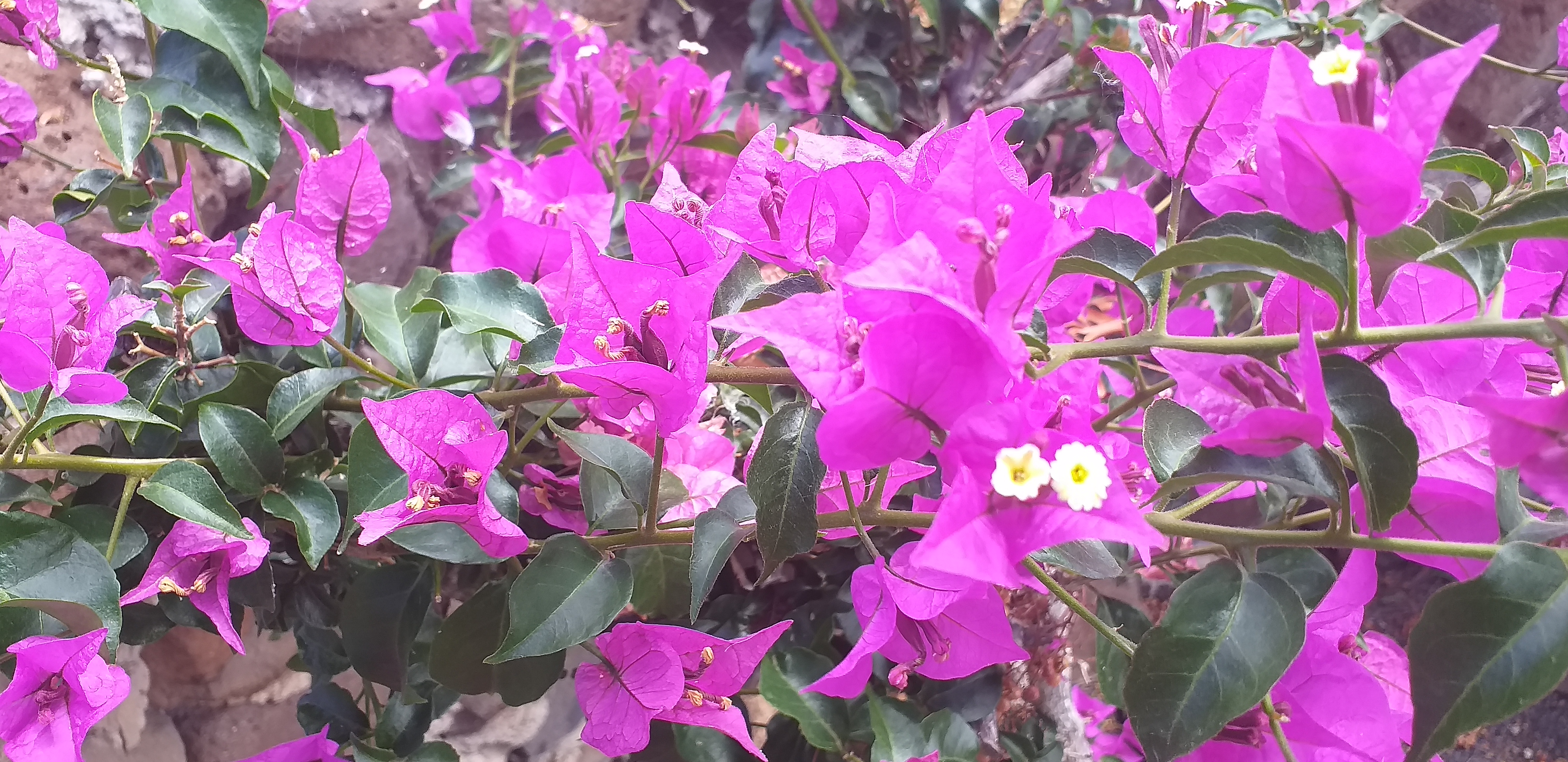 This super popular South American climber is used liberally all over the island and is so well adapted to the climate here that it can also survive easily in the wild. 
It ties in beautifully with island aesthetic, providing vivid splashes of bright pink, purple, red or orange colours to the otherwise monochrome backdrop of white-washed houses and black picon fields and plant beds.
This is a plant which we have used extensively in the Secret Garden Villa at Finca Botanico as we like to work two contrasting coloured climbers into each other for a really bright display.  An effect guests will find around both the yoga platform at the end of the garden and by the main entrance to the house.
Schinus mole – Peruvian Pepper Tree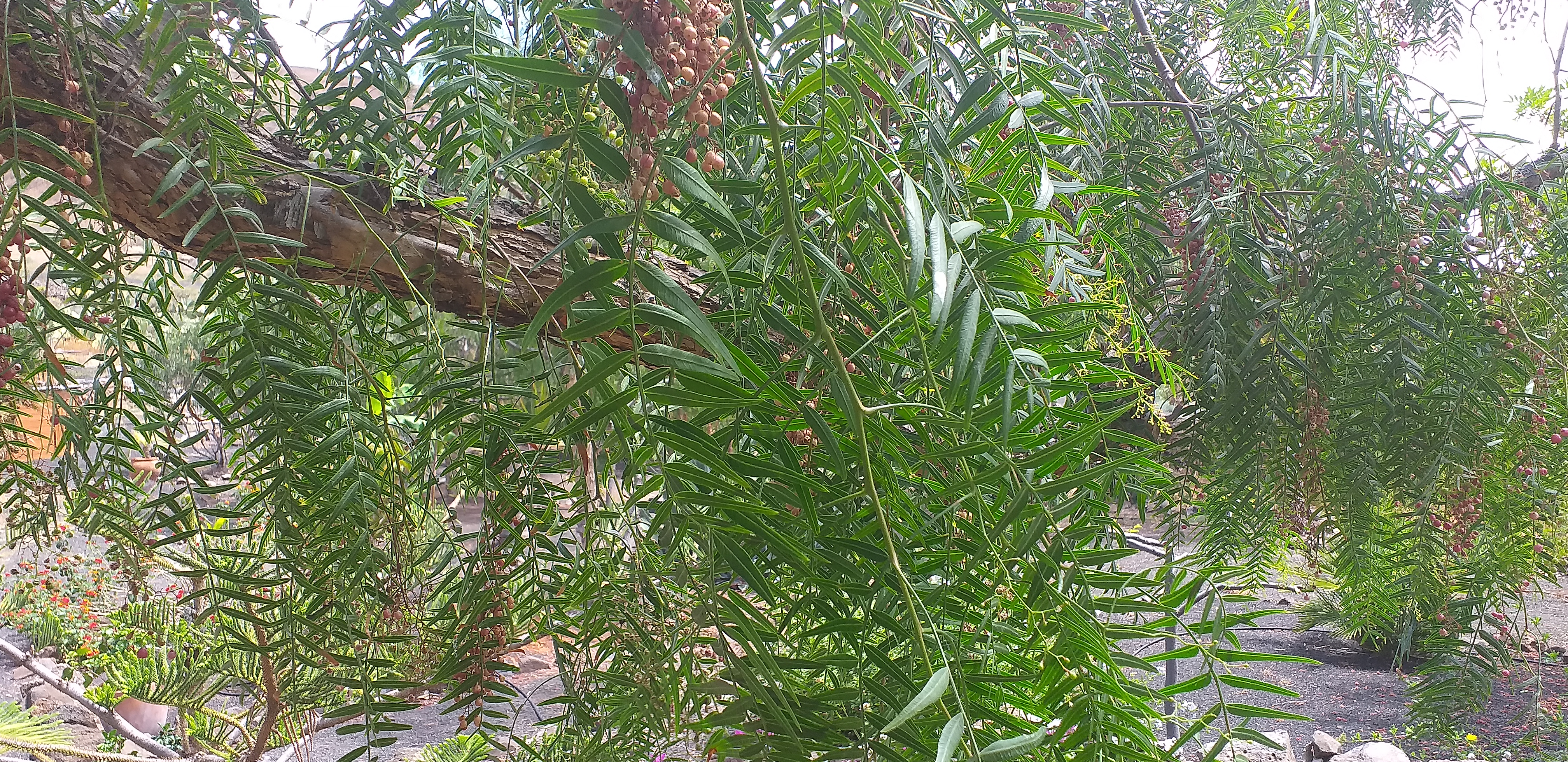 This tree could be referred to as the landscaper's best friend as it is a fantastically fast-growing species with a unique, weeping willow type effect that can be shaped easily to both hide and reveal specific aspects of a garden.  Whilst also producing bright pink fruits, essentially peppercorns – which has also given rise to the name false pepper tree – which can be used for cooking.
Washingtonia robusta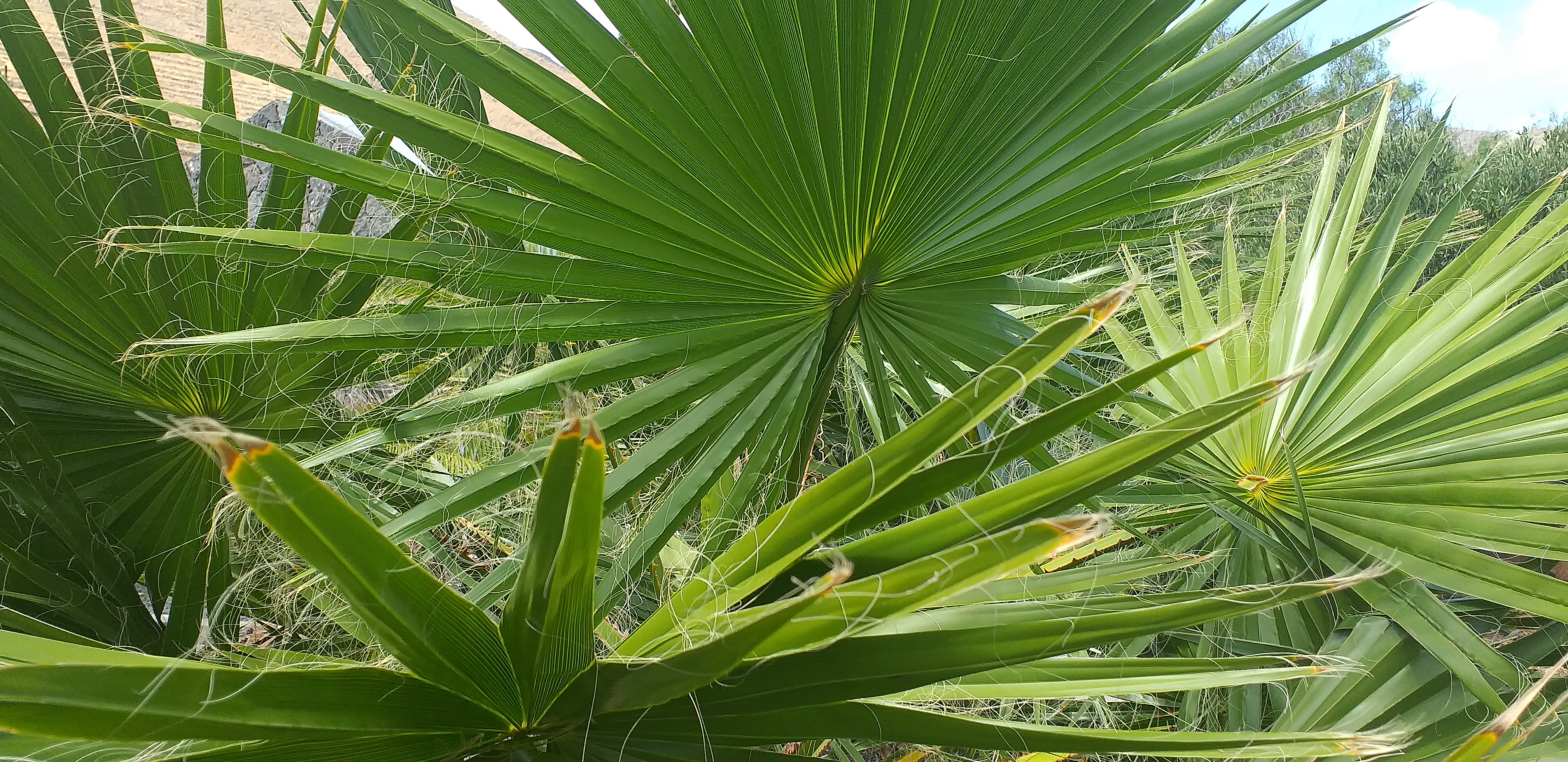 Without a doubt the second most popular palm species in evidence on the island, the Mexican fan palm is now naturalised in the Canary Islands, as well as other parts of Spain, Italy and California.  Where it's iconic long slender trunk features in many film scenes and is synonymous with Hollywood and Los Angeles.
This palm is really wind resistant, making it an invaluable ally for any gardener on Lanzarote trying to create a tropical effect.  However, over time it can reach up to 25 metres tall, making pruning dead leaves something of a challenge!
Platano Canario
Our guests are just bananas about this plant.  It's slightly dwarf form means we can grow it easily behind the high walls of the Secret Garden Villa at Finca Botanico without exposing the huge, velvety leaves to serration by the wind – and it basically forms the main spine of the garden.  Injecting a truly tropical feel into the space with the added bonus of regular, super sweet fruit.
There remains some dispute over the provenance of this plant's introduction to the Canaries.  Some sources claim it was under cultivation in Tenerife as long ago as the 15th century, introduced by Portuguese traders from either West Africa or the Caribbean.  Whilst others swear that the Cavendish banana – named after the 6th Duke of Devonshire – reached the islands from Mauritius via Chatsworth House, where they were cultivated by head gardener Sir Joseph Paxton in the 1830's.
Strelitzia nicoloai/augusta
The bird of paradise plant, Strelitzia reginae, is one of the very first flowers visitors to the island are likely to encounter.  As it is used in abundance in the central reservation and borders of the main road that connects the airport with all points around the island.
We're particularly fond of its bigger brother – strelitzia nocolai or augusta – as this plant offers very similar foliage to a banana, indeed it is also known as the wild banana.  But also because of the truly amazing flowers it produces regularly – earning it the sobriquet of the giant white bird of paradise.
We have planted large clumps of this beautiful species in the Garden Apartment – where it now stands some 3 metres tall and shades the outdoor shower area.  As well as the Secret Garden Villa, alongside clumps of the Canarian banana.
Aloe vera
Whilst not native to Lanzarote Aloe vera enjoys a high profile on the island.  As it is widely used in hotel and public gardens – for example as underplanting beneath rows of Canarian palms in Costa Teguise.  Whilst it is also cultivated here as a cash crop – as it thrives in the mineral rich volcanic soil.
Indeed, its popularity is such that there are numerous specialist dispensaries and shops dedicated solely to the sale of Aloe vera health and beauty products across Lanzarote. 
The aloe vera grown here on Lanzarote originates from Arabia, but our favourite species of Aloe hails from Africa.  And grows much bigger and taller over time, producing really striking candelabra of flowering stalks  – something guests staying in the Garden Apartment at Finca Botanico twice every year, as we have a very mature specimen thriving in the garden there.