LANZAROTE WINES - Wineries, Bodegas and Vineyards On Lanzarote
March 23. 2022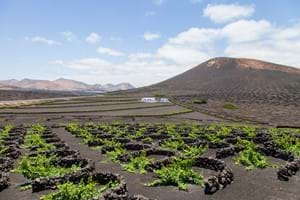 Lanzarote's unique vineyards and historic bodegas make it a great choice for wine lovers keen to explore local viniculture. And guests staying at Finca Botanico will be pleased to know that fine wine is right on their doorstep in Guatiza as farmers grow vines in the surrounding fields whilst the village is also home to its very own winery - Bodega La Mareta.
The wine scene is growing apace here on Lanzarote – as the number of bodegas on the island has doubled to just over 20 in the last eight years or so. Whilst international interest is erupting thanks to a vogue for volcanic wines. Quality is improving all the time too and there's lots of opportunities for wine lovers to explore and sample the local product.
Lanzarote Wines – A Bottled History
The Canary Islands have been producing wines for over 500 years – and were so famous for their production of the sweet grape Malvaisa in medieval times that they often earned a mention in the works of William Shakespeare. Who name checks canari wine, malmsley or sack, as it was referred to then, in some of his most famous plays.
However – the climatic conditions on Lanzarote were not quite right for growing grapes as rainfall was much lower here than in the rest of the Canaries. However, a catastrophic event changed all that, creating the perfect conditions…….
Volcanic Vineyards
Life on Lanzarote changed dramatically back in the 1730's when the island was rocked by a six year long volcanic eruption. Which fundamentally altered many aspects of island life – not least agriculture.
Local farmers soon found that the swathes of solidified lava that covered around one quarter of Lanzarote after the eruptions could be put to good use as a form of mulch, thanks to its mineral rich, porous properties. And as a result, vines were soon being grown in fields of black picon or rofe – the distinctive volcanic chippings that are evident pretty much everywhere on Lanzarote.
In La Geria, the main wine region on Lanzarote, these fields of black picon are coupled with the use of semi-circular stone constructions – called zocos (which protect the plants from the wind) - creating a unique and highly photogenic landscape.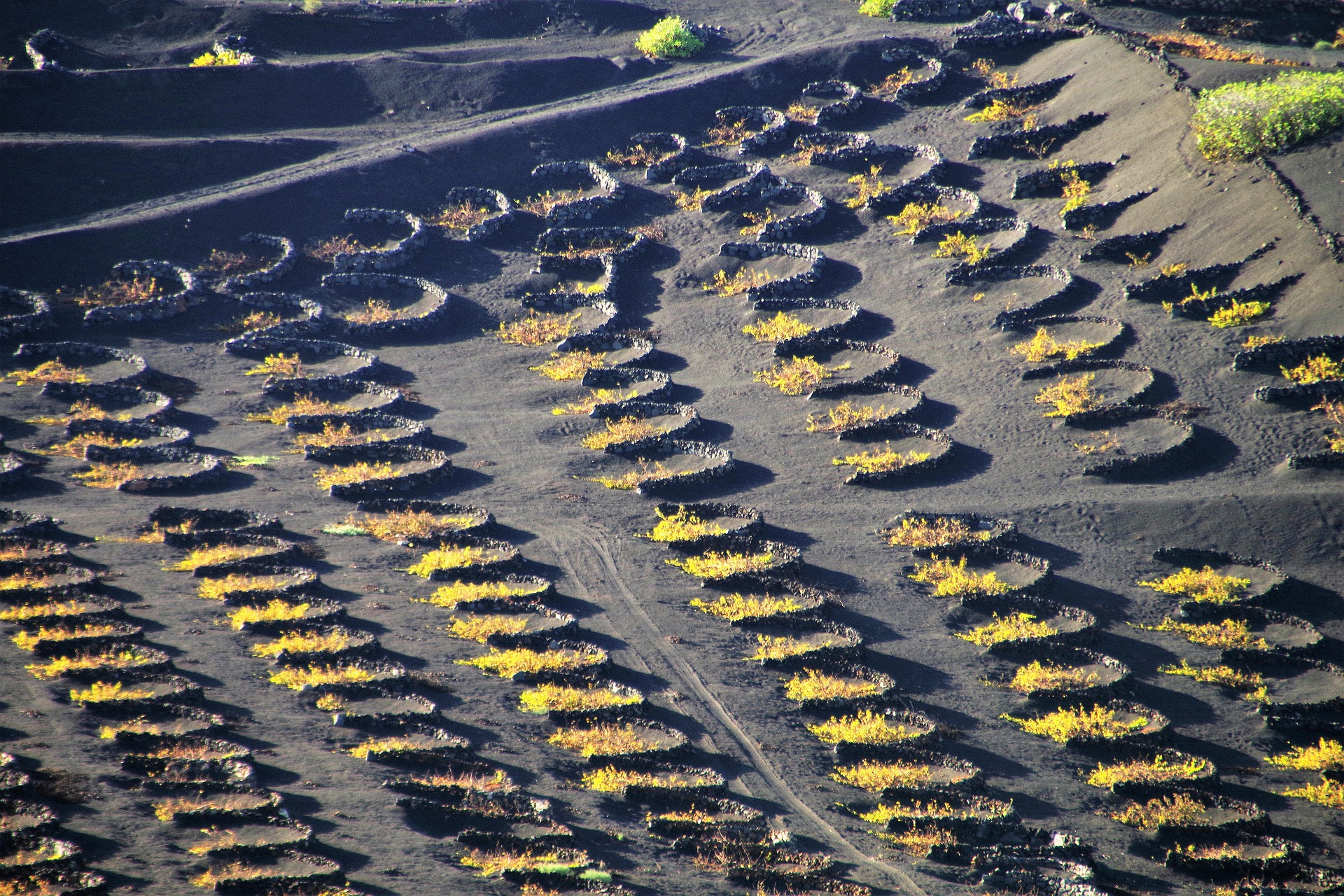 The vines are basically allowed to crawl along the ground, rather than being grown vertically on stakes or trellis supports. Another innovation providing them with further protection from the wind – which can blow particularly strongly during the key months of April to August – when the vines are fruiting.
Harvest time here begins much earlier than in mainland Spain – from July onwards, depending on grape type. With all of the hard work done by hand, with help from the occasional camel!
Touring Lanzarote's Vineyards
The bulk of Lanzarote's bodegas are handily concentrated in the San Bartolome and La Geria region, making it easy to explore.
All of them welcome visitors (although that obviously changed during the pandemic) and most offer tastings and wine sales – sometimes alongside their own in-house restaurants. Others are a little more earthy – and you can just drop in and pick up wine by the case.
Guests staying at Finca Botanico can take advantage of one of our organised tours of the wine region – just ask us for more details.
Download A Map Of Lanzarote's Bodegas
According to Lanzarote D.O the island's official denomination of origen organisation there are now 21 bodegas in operation – and whilst it hasn't been updated for a year or two their map of local wineries is indispensable for visitors keen to view the vines and buy some wines. 
Eagle eyed visitors will also soon cotton on to the fact that loads of locals still grow their own grapes for home consumption too – as becomes quickly evident when exploring the countryside pretty much anywhere on Lanzarote.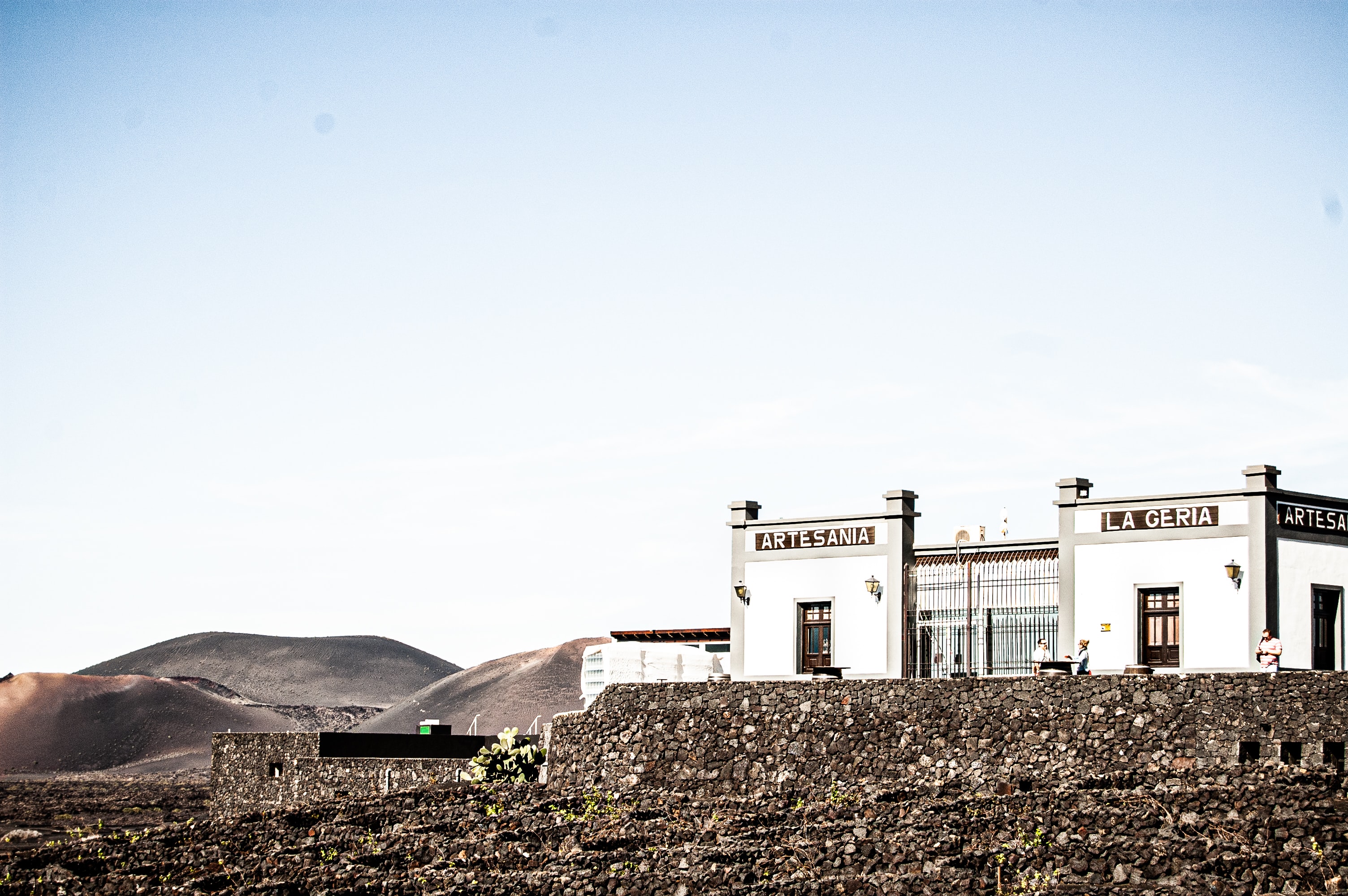 So, Are Lanzarote Wines Any Good?
Whilst the Canaries certainly aren't Spain's most famous region, wines produced on Lanzarote have improved enormously in quality since we first arrived on the island back in 2001 and are now regularly picking up awards and plaudits around the world.
The best-known bodega is probably El Grifo – boasting a label and brand identity designed by the famous local artist Cesar Manrique alongside a popular and informative wine museum and wider scale distribution than most of their competitors. And this mark amassed loads of awards in 2021 alone – including gold medals at some of the world's most prestigious events.
You can read more about the string of awards amassed by local bodega's on the excellent Lanzarote D.O website here… 
What Sort of Wines Do They Produce?
Most bodegas offer the usual range of the basic 'holy trinity' – red, white and rose. Alongside a sweeter Malvasia – a grape type which has a rich history here on the island. Whilst the bigger bodegas offer a much wider range of speciality wines alongside the basics.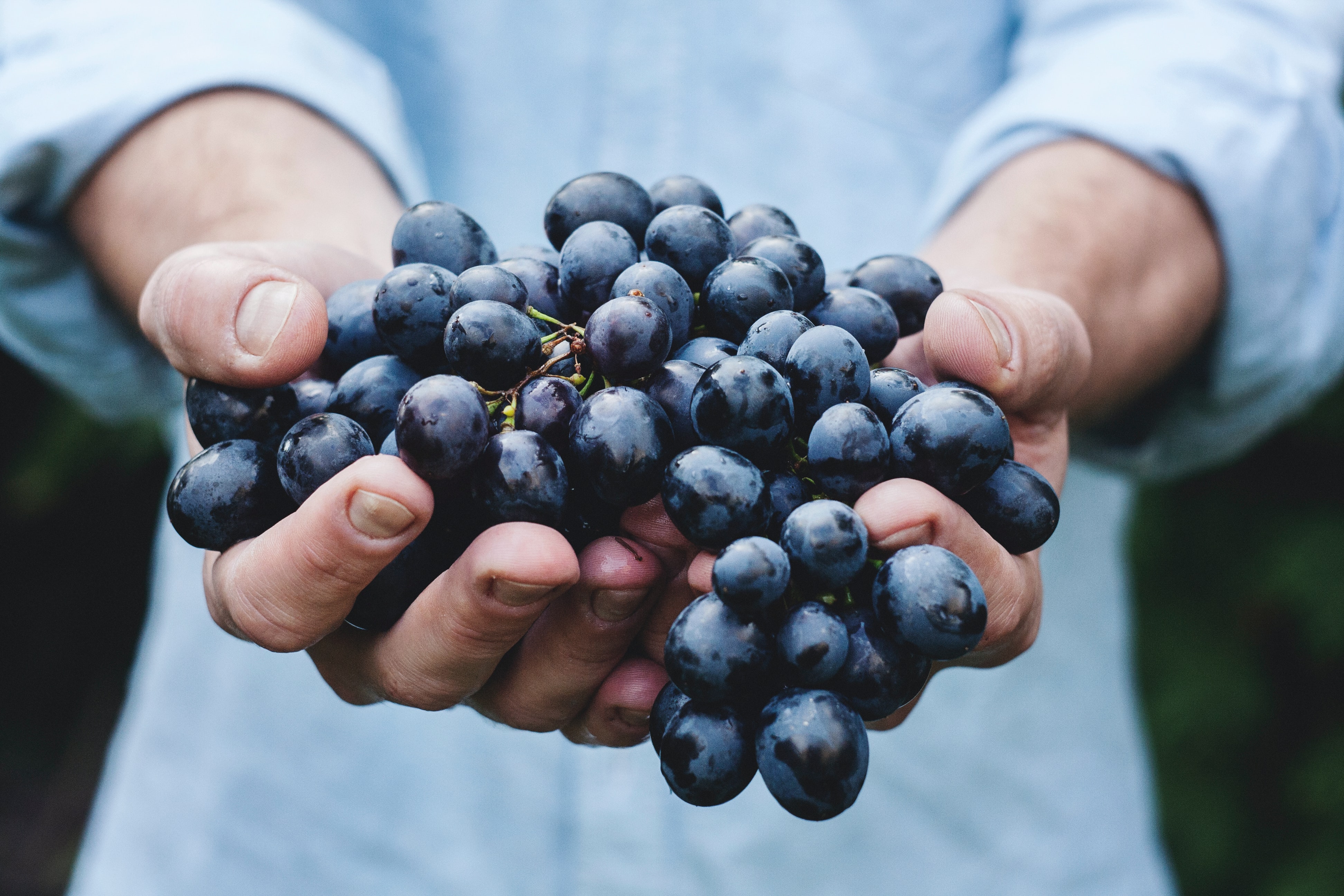 Five main grape types are used – Malvasia, Moscatel, Diego, Listan Negro and Syrah - although there is ongoing experimentation with other varieties in smaller quantities. These five grape types however are regarded as the traditional bedrock of local wine production.
Where Can I Buy Lanzarote Wine?
Most local restaurants stock local wines as well as a selection from the peninsula. Larger supermarkets will also carry a decent range too. You can always visit most of the bodegas direct to pick up your own supply.
Local wines are hand produced and are not produced in massive quantity – best estimates suggest around 1 million bottles are corked per year. And the bulk of that remains right here on Lanzarote. Which means that they tend to be a little more expensive than mass produced wines imported from mainland Spain.
Buy Lanzarote Wine Online
You can also buy Lanzarote wines online from the Lanzarote Wine Shop who work with five of the island's best bodegas and who also offer free shipping to the UK or Ireland for orders of 12 bottles or more.