BATTLE TO CONSERVE CANARIAN PALMS CONTINUES
March 2. 2022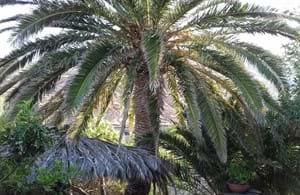 The island government continues to commit resources to the conservation of the iconic Canarian palm (Phoenix canariensis) which is under threat on Lanzarote due to the increasing prevalence of the palm weevil borer (Diocalandra frumenti).
The palm weevil borer can be found in many locations around the world, including Africa, Southeast Asia, the Pacific Islands and Australia. And has been gaining ground in the Canary Islands in recent decades since first being identified here in 1998, infesting and causing the death of numerous palms in locations such as Yaiza and Costa Teguise, as well as wiping out some coconut and washingtonia palms too.
This voracious pest can destroy a healthy palm tree in as little as three months – as it lays its larvae in small cracks in the palm, which then start to feed on the host plant. Resulting in the creation of long galleries that then cause irreparable damage.
The first signs of damage are small perforations with a gummy secretion on the leaves or base of the palm which then become necrotic – often resulting in the premature death of the palm fronds before the plant itself essentially deflates and collapses in on itself.
Currently, the island government are launching a second phase of their action plan this month as they reanalyse the health of specimens in the seven municipalities that comprise Lanzarote (San Bartolome, Tias, Yaiza, Tinajo, Arrecife, Teguise and Haria). As well as holding various symposiums to educate local gardeners and botanists.
Among other measures proposed by the study is to guarantee irrigation and the supply of fertilizers to the palm trees located in infected areas, the administration of phytosanitary treatments, the elimination of artificial corridors of palm trees grown on the margins of the roads that link affected areas with pest-free areas, and establishment of procedures for the management and elimination of plant remains from their generation, transport and treatment or transformation.
To date most of the damage has occurred in the south of the island and is fortunately yet to have spread as far as the Valley of 1000 Palms in the north of Lanzarote. Whilst Guatiza, where Finca Botanico is located also remains unaffected.