ARRIETA RESTORATION Walkway Project Now Underway
November 8. 2019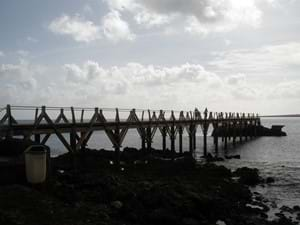 Arrieta is the closest beach to Finca Botanico, located around ten minutes drive away. And this natural and unspoilt stretch of sand is a real hot favourite with our guests. Not least as the beach here boasts great facilities such as showers and WC's, as well as two excellent places to eat and a funky VW Camper Van beach bar to boot.
Work is now finally underway to repair the wooden walkway that spans out into the sea, which was damaged by storms back in 2010. A budget of 373,000 euros has been allocated to transform this into a far more durable and tourist friendly structure, which will once again allow pedestrian access to the concrete sunbathing platform.
You can view the artist impression of the project below – which gives a view from the walkway out to sea and across to the neighbouring village of Mala. The project is expected to take five months - through until around April 2020 - and won't in any way impact access to the beach at all. Although work in progress may possibly affect the tranquillity and overall atmosphere. However the end result certainly promises to enhance this picturesque playa and improve the facilities overall and we will be posting regularly about the progress of this project in order to keep our guests updated.
IMAGE OF THE OLD ARRIETA BRIDGE COURTESY OF JOSE LUIS GARCIA
"Arrieta Lanzarote Spain Canary Islands" by Jose Luis Garcia de los Salmones is licensed with CC BY 2.0. To view a copy of this license, visit https://creativecommons.org/licenses/by/2.0/